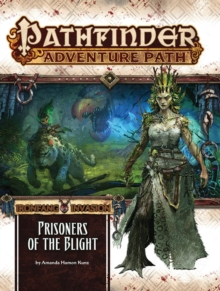 Pathfinder Adventure Path: The Ironfang Invasion-Part 5 of 6: Prisoners of the Blight
Paperback / softback
Description
With the secrets of the Stone Road and its focus, the Onyx Citadel, finally revealed, the PCs only need an army of their own to push back against the Ironfang Legion.
But with Nirmathas's ragtag forces occupied with Molthune and the Legion tearing at the nation's underbelly, the heroes require unconventional allies to build that army.
Legends tell of an ancient fey nation that once controlled the Fangwood Forest, and now lies imprisoned by the corrupted dryad Arlantia and her otherworldly Darkblight.
Can the heroes survive this twisted, fey wonderland and defeat its mistress, or will they succumb to the same sentient plants, terrifying dragon, and legendary beasts that have claimed so many before them? "Prisoners of the Blight" is a Pathfinder Roleplaying Game adventure for 14th-level characters.
It continues the Ironfang Invasion Adventure Path, a war-torn homage to classic fantasy adventure in which the heroes defend their homeland from a savage invading army.
An array of new boons and banes powerful fey can bestow upon mortals, a selection of blighted and First World monsters, and a review of the faith of Cyth V'sug, demon lord of filth and pollution, round out this volume of the Pathfinder Adventure Path!Each monthly full-color softcover Pathfinder Adventure Path volume contains an in-depth adventure scenario, stats for several new monsters, and support articles meant to give Game Masters additional material to expand their campaign.
Pathfinder Adventure Path volumes use the Open Game License and work with both the Pathfinder RPG and the world's oldest fantasy RPG.
Free Home Delivery
on all orders
Pick up orders
from local bookshops