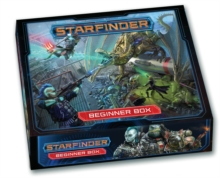 Starfinder Roleplaying Game: Beginner Box
Game
Description
Explore theGalaxy!Launch into an exciting universe ofscience fantasy adventure with the Starfinder Beginner Box!
Create and customizeyour own futuristic hero to play through challenging adventures andaction-packed battles against dangerous foes!
With streamlined rules, thisdeluxe boxed set is the ideal introduction to the Starfinder Roleplaying Game,an imaginative tabletop roleplaying game for 2-7 players.
Welcome to the bestlaunchpad for a lifetime of pulse-pounding adventure among the stars-the onlylimit is your imagination!The StarfinderBeginner Box has everything you need to getstarted:* A 96-page Heroes' Handbook,detailing character creation and general rules for playing the game, plus ashort solo adventure* A 96-page GameMaster's Guide containing an adventure, alien adversaries, and advice on how tocreate your own science fantasy tales* Acomplete set of seven polyhedral dice*More than 80 full-color pawns depicting diverse heroes andaliens* 24 plastic pawnbases* Six pregenerated character sheetsto throw you right into the action* Six blank character sheets to recordthe abilities of your custom-made hero* Six player aid cards for quickrules references* A durable, reusable, double-sided Flip-Mat playsurface that works with any kind ofmarker
Information
Format: Game
Pages: 192 pages
Publisher: Paizo Publishing, LLC
Publication Date: 07/05/2019
Category: Indoor games
ISBN: 9781640781238
Free Home Delivery
on all orders
Pick up orders
from local bookshops