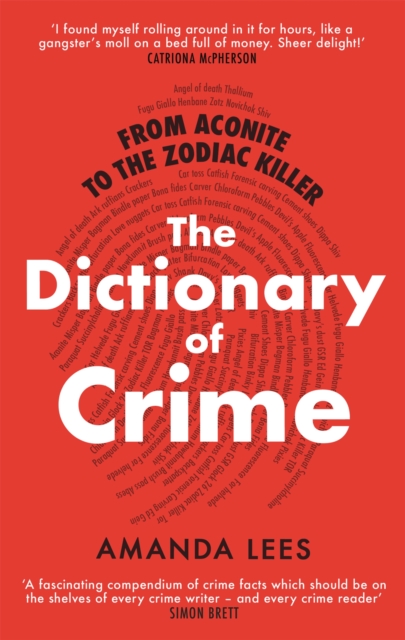 From Aconite to the Zodiac Killer : The Dictionary of Crime
Paperback / softback
Description
'The Dictionary of Crime is now the first book I reach for when beginning a new novel.
An essential resource, it's packed with explanations, insider information, contemporary and historical slang, as well as some downright bizarre laws and practices.
It's funny, fascinating and a damn good read'M. W CRAVEN, winner of the 2019 Crime Writers Association Gold Dagger for best crime novel of the year for The Puppet Show'A really good idea . . . executed neatly to come up with the perfect gift for crime lovers' MAT COWARD, Morning Star'I found myself rolling around in it for hours, like a gangster's moll on a bed full of money.
Sheer delight!' CATRIONA McPHERSON'Where was this book when I started writing?
From Aconite to the Zodiac Killer is the essential companion for any serious reader or writer of crime'LEYE ADENLE, author of When Trouble Sleeps'A fascinating compendium of crime facts which should be on the shelves of every crime writer - and every crime reader'SIMON BRETT'This is a dangerous book in so many ways, chock full of ways of killing people, from undetectable poisons to various types of guns.
It contains riveting accounts of notorious murderers, is crammed with fascinating details of slang, and precise particulars of police procedures.
The perfect gift for any true crime enthusiast and an indispensable guide for all crime fiction writers.'S.
W. WILLIAMS, author of Small Deaths and How to Write Crime Fiction'A remarkable achievement.
At once elucidating and compelling, indispensable and unputdownable.
It reads like a page-turning thriller. Whether a crime writer who needs to distinguish a blood agent from a bum beef or a reader with an interest in queer coal makers, this lexicon will keep you hooked, and leave you sublimely informed.'GARY DONNELLY, author of Killing in Your Name and Blood Will Be Born'Fascinating, insightful and taking up permanent residency on my desk.
Amanda Lees' Dictionary of Crime is my new bible!' CHRIS WHITTAKER, award-winning author of Tall Oaks, All The Wicked Girls and We Begin at the End'What a little gem this is - such a great idea and a valuable resource for writers.
I found myself dipping into it at intervals and marvelling at the extent of the research that's gone into it, as well as chuckling over some of the more unusual entries.
My personal favourites? BINGO seat, nicker, moll buzzer and lully-prigger. Wouldn't have had a clue what they meant . . . but I'm determined to work them in somewhere in a future novel!'G.
J. MINETTT, author of The Syndicate 'A fascinating journey through the dark side of the human psyche.
Highly recommended for anyone interested in criminals and crime'PATRICK REDMOND, bestselling author of The Wishing GameAn essential popular A-Z reference guide for fans of crime fiction and true crime, in books, TV and film, helping to make sense of everything from asphyxiation to VX nerve agent. This is an indispensable guide for fans of true crime and crime fiction, whether in books, film or on TV, who want to look behind the crime, to understand the mechanics of an investigation, to walk in their favourite detectives' shoes and, most importantly, to solve the clues.
To do that, one needs to be fluent in the language of the world of crime.
We need to know what that world-weary DI is talking about when she refers to another MISPER.
We have to immediately grasp the significance of the presence of paraquat, and precisely why it is still a poison of choice.
If you want to know how many murders it takes for a killer to be defined as a serial killer, what Philip Marlowe means when he talks about being 'on a confidential lay' and why the 'fruit of a poisonous tree' is a legal term rather than something you should avoid on a country walk, this is the reference book you've been waiting for. It covers police and procedural terms and jargon of many different countries; acronyms; murder methods; criminal definitions, including different types of killers; infamous killers and famous detectives; notorious cases often referred to in crime fiction and true crime; gangster slang, including that of the Eastern European mafia; definitions of illegal drugs; weapons; forensic terminology; types of poisons; words and phrases used in major crime genres, including detective fiction, legal thrillers, courtroom dramas, hardboiled crime, Scandi and Tartan Noir, cosy crime and psychological thrillers; criminology terms; and the language of the courts and the legal systems of British, American, French, Nordic and other countries. From Aconite to the Zodiac Killer is an essential, go-to resource for readers and even for writers of crime fiction.
More than simply a glossary, this is a guide that provides a doorway into a supergenre, and one that is not just for readers, but also for the many fans of film and TV dramas, of podcasts, and crime blogs.
It is also an indispensable resource for writers or would-be writers of crime fiction.
Information
Format:Paperback / softback
Pages:320 pages
Publisher:Little, Brown Book Group
Publication Date:23/07/2020
Category:
ISBN:9781472143297
Information
Format:Paperback / softback
Pages:320 pages
Publisher:Little, Brown Book Group
Publication Date:23/07/2020
Category:
ISBN:9781472143297