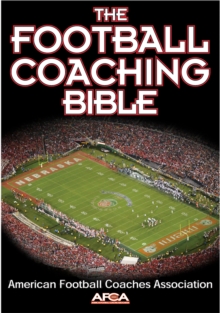 The Football Coaching Bible
Paperback / softback
Description
The Football Coaching Bible features many of the game's most successful coaches.
Each shares the special insight, advice, and strategies they've used to field championship-winning teams season after season. The 27 chapter contributing coaches span six decades of the sport and reach into every corner of the United States.
The impressive list of contributors: Joe Paterno Hayden Fry Phil Fulmer Dick Foster Grant Teaff Gene Stallings Jim Tressel R.C.
Slocum LaVell Edwards Bobby Bowden Jim Young Frosty Westering Mack Brown Larry Kehres Bill Snyder Lou Holtz Ken Sparks Tom Osborne Sonny Lubick Mike Bellotti Barry Alvarez Fisher DeBerry George Curry Bo Schembechler Joe Tiller Frank Beamer They cover every aspect of the game: coaching principles, program building, player motivation, practice sessions, individual skills, team tactics, offensive and defensive play-calling, and performance evaluation. Developed by the American Football Coaches Association, this coaching guide establishes a new standard of excellence in the sport. ContentsPart I - Professional Duties and Opportunities Don Nehlen Chapter 1.
Responsibilities of a Coach Grant Teaff Chapter 2. Inner Drive and Motivation Bo Schembechler with contributions from Rick Neuheisel and Jack Harbaugh Chapter 3.
Professional Conduct Fisher DeBerry Chapter 4. Career Decision Making Jim Tressel Part II - Coaching Principles and Priorities Harold "Tubby" Raymond Chapter 5.
Keeping it Small Joe Paterno Chapter 6. Staying True to You Bobby Bowden Chapter 7. Leading Your Team Tom Osborne Chapter 8. Pursuing Your Vision Lou Holtz Part III - Program Building and Management Bill Curry Chapter 9.
Building and Sustaining a Division I Program Bill Snyder Chapter 10.
Building and Sustaining a Divisional College Program Larry Kehres Chapter 11.
Building and Sustaining a Junior College Program Dick Foster Chapter 12.
Building and Sustaining a High School Program George Curry Chapter 13.
Promoting Your Program Mack Brown Part IV - Innovative and Effective Practice Sessions Ron Schipper Chapter 14.
Planning and Conducting Productive Practices Gene Stallings Chapter 15.
Maximizing the Ability of Players Joe Tiller Chapter 16.
Conditioning for High Performance Mike Bellotti Chapter 17.
Adjusting for Weather, Injuries, and Opponents Hayden Fry Part V - Individual Skills and Team Tactics Dick Tomey Chapter 18.
The Running Game Barry Alvarez Chapter 19. The Passing Game LaVell Edwards Chapter 20. Run Defense R.C. Slocum Chapter 21. Pass Defense Sonny Lubick Chapter 22. The Kicking Game Frank Beamer Part VI - Game-Winning Strategies Bill Mallory Chapter 23.
Scouting the Opposition Phil Fulmer Chapter 24. Getting the Competitive Mental Edge Jim Young Chapter 25.
Offensive Play Calling in Key Game Situations Frosty Westering Chapter 26.
Defensive Play Calling in Key Game Situations Chapter 27.
Evaluating Performance Ken Sparks
Information
Format: Paperback / softback
Pages: 376 pages
Publisher: Human Kinetics Publishers
Publication Date: 25/07/2002
Category: Sports training & coaching
ISBN: 9780736044110
Also by American Football Coaches Association