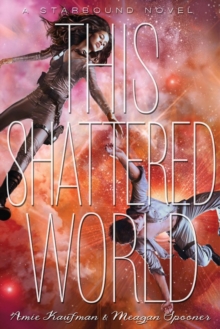 This Shattered World
Hardback
Information
Format: Hardback
Pages: 398 pages
Publisher: Disney Publishing Worldwide
Publication Date: 23/12/2014
Category: General
ISBN: 9781423171034
Free Home Delivery
on all orders
Pick up orders
from local bookshops
Reviews
Showing 1 - 5 of 8 reviews.
Previous | Next
Review by kmartin802
16/06/2015
THIS SHATTERED WORLD is the second book in a trilogy. It is also a standalone romance novel and science fiction thriller. Captain Jubilee Chase is assigned to Avon where most soldiers rotate in and out frequently because otherwise they fall victim to the Fury - which steals their minds and causes them to commit various acts of mayhem. For some reason Lee is immune to the effects. Lee doesn't dream and hasn't since she was eight and saw her parents murdered in a revolution on her home planet. As soon as she could, she decided to join the military to keep the peace and stop that sort of revolution from happening again.Flynn Cormac is one of the rebels on Avon though he is actually a peacemaker at heart. He is part of the rebel group because his sister led the rebels before she was caught and executed ten years earlier. Flynn wants to try to preserve the current cease fire and decides that kidnapping Captain Chase would be a way to force concessions out of the military.However, things don't work like he hopes. He gets to know Lee and she gets to know him. Despite being enemies, they find that they have lots of things in common. Both would like a peaceful resolution to the situation on Avon. That situation is being complicated by the secret maneuverings of the richest man in the galaxy who is using Avon to conduct experiments on the populace using some alien creatures he has trapped in this universe. I really enjoyed the romance in this action-packed story. I also enjoyed the seeing Tarver Merendsen again as he comes to the planet at the request of one of his former soldiers - Jubilee Chase. They work together to try to expose Roderick LaRoux and his dastardly plot.I can't wait for the third book in this series to find out how this whole situation is resolved.
Review by krau0098
16/06/2015
I got a copy of this book through NetGalley to review. This is the second book in the Starbound series by Kaufman and Spooner. This is supposed to be a trilogy with the third book releasing in December of 2015. This was a well done continuation of this young adult science fiction series. I enjoyed this book a lot. It wasn't quite as good as the first book in the series but it was still a very good, if somewhat predictable read. Jubilee Chase (Lee) is the captain of a military unit sent to the planet of Avon to crush the rebellion there. Flynn Cormac is the brother of the woman who lead the largest rebellion on Avon and is desperately trying to hold the rebel forces together. When Lee and Flynn meet things get out of hand and both of them end up on a journey through the swamps of Avon. The terraforming on Avon hasn't been going as planned and between the two of them Lee and Flynn may be able to uncover the secrets of Avon.The two characters from These Broken Stars are in the story a small amount. However mostly this story follows another star-crossed couple on a new and interesting planet. The chemistry between Lee and Flynn isn't as good as it was between Lilac and Tarver, but it is still pretty well done.Lee is your typical tough-girl military commander type. She puts all the boys in their place and is always in control. She is also well-liked and respected. She has a dark history involving rebel forces and would do anything to see them destroyed.Flynn is a peaceful man thrust into the leadership role in a rebel group. He wants to strike a compromise with the military forces and actually solve the mystery behind the delay in the terraforming of Avon. Needless to say his relationship with Lee is definitely star-crossed.The whole story seems unrelated to the events in These Broken Stars at first, however eventually elements in this story dovetail with the events in the first book. I expected a few more twists and turns, but the story is fairly predictable. That being said it is still an interesting book. I enjoyed the new characters and the new planet we get to explore.Overall this was a well done YA science fiction with action and romance. If you enjoyed These Broken Stars I think you will really enjoy This Shattered World as well. I will definitely be reading the third book in this series. I would recommend to those you like YA science fiction with some romance.
Review by amandacb
16/06/2015
I had just finished The Winner's Curse, which also features two star-crossed lovers from different "factions," so I was not blown away by the love story here. I must say, I am rather disappointed and I am kind of taking this personally. These Broken Stars is one of my all-time favorite books, and I had This Shattered World pre-ordered for MONTHS before it was published.The action did not pick up until page 119; I remember that very distinctly because I kept reading feverishly, wondering when something was going to happen and if this book was ACTUALLY by the authors of These Broken Stars.A prior reviewer did a great job outlining the plot -- and I will say, the latter third of the book is pretty dang good. The ending is satisfying without being overly trite, and I like the little reminders that despite all of our technology and blah blah blah, we are all little unique pieces of stardust.However.There is a LOT of jerking and snapping going on in this book. Within two pages, I found five instances of characters jerking their eyes, jerking their hands, jerky movements, jerky jerky jerky. Total overkill of this word and it makes me want to throw a thesaurus at the authors. This overuse of any variation of the word "jerk" drove me absolutely batshit insane by the end of the novel.Please, authors, don't make me go batshit insane with the third book. Take your time, edit, use a thesaurus, and make the last book as brilliant as the first -- and we'll just forget this ever happened.
Review by devafagan
16/06/2015
I think I enjoyed this even more than the first in the series -- I found it fast-paced and compulsively readable, and loved the themes of war/rebellion/reconciliation explored from the POV of two characters on opposite sides of a bloody conflict. I was impressed by how well it stood alone, though it was also nice to see a bit of the characters from the first book! I am very excited to see where things go in the third book!
Review by bookwren
16/06/2015
Suspenceful, seat-of-your pants plotting, strong characters and light romance make this an appealing companion to These Broken Stars. I loved Flynn Cormac's passion for peace despite his losses and the battles raging around him. He believed fighting was not the way, never faltered despite overwhelming odds, the threat of losing his beloved people's respect and support, and the potential loss of not only his own life, but that of his newfound love. This may sound corny, but it worked for me. Flynn is a peaceful warrior.