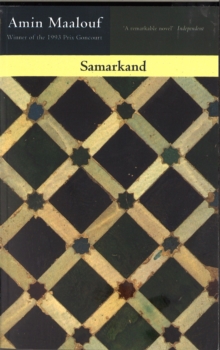 Description
Accused of mocking the inviolate codes of Islam, the Persian poet and sage Omar Khayyam fortuitously finds sympathy with the very man who is to judge his alleged crimes.
Recognising genuis, the judge decides to spare him and gives him instead a small, blank book, encouraging him to confine his thoughts to it alone.Thus beginds the seamless blend of fact and fiction that is Samarkand.
Vividly re-creating the history of the manuscript of the Rubaiyaat of Omar Khayyam, Amin Maalouf spans continents and centuries with breathtaking vision: the dusky exoticism of 11th-century Persia, with its poetesses and assassins; the same country's struggles nine hundred years later, seen through the eyes of an American academic obsessed with finding the original manuscript ; and the fated maiden voyage of the Titanic, whose tragedy led to the Rubaiyaat's final resting place - all are brought to life with keen assurance by this gifted and award-winning writer.
Information
Format: Paperback
Pages: 320 pages
Publisher: Little, Brown Book Group
Publication Date: 01/01/1994
ISBN: 9780349106168
Free Home Delivery
on all orders
Pick up orders
from local bookshops
Reviews
Showing 1 - 2 of 2 reviews.
Review by soylentgreen23
16/06/2015
Maalouf's work deserves a wider audience, now especially. It is a wonderful introduction to arabia, central asia, and islam especially, his stories often set in the middle ages when the prophet Muhammed first arrived with his message from God.Samarkand is now a city in Uzbekistan, but when the story is set, it is a prominent city in King Tamerlane's empire. There the poet-philosopher Omar Khayyam is encouraged to write his poems, or rubai, in a special book, given to him by his protector; over time, this book, his Rubaiyaat, becomes a cultural treasure eventually lost with the sinking of the Titanic.Maalouf's story is energetically told, shifting between the middle ages and the present as we follow the narrator as he explores central asia in search of the book. Tamerlane's age was a glorious one, on this evidence, and the exotic beauty of the time is well conceived and presented. Full of incidental details, courtly affairs, love and romance and philosophy, Samarkand is a book for bibliophiles.
Review by chrissie3
16/06/2015
This went over my head. I did learn about the Sufi poet, sage, astronomer, mathematician, Omar Khayyam (1048-1131) of 11th century Persia and his famed <i> Rubaiyaat</i>, about life during the Seljuk empire before the Mongol invasion, about Nizam ul Mulk, Hassan Sabbah, the founder of the Order of the Assassins, and later about the Persian democratic struggle for a constitutional government. That is why I am giving this book two stars. I did learn something, but I also had to spend quite a bit of time searching on the net and in other literature! I was so often confused.I did not enjoy the mix of fact and fiction. The fictional parts felt unbelievable. I didn't enjoy the language used; it is wordy; it is highbrow. The story is told, rather than shown. The love affairs did not move me. I felt nothing for the characters. No, I did not enjoy this book; it was a chore. I am the oddball out! Perhaps you should go read somebody else's adulatory review!Completed May 6, 2013