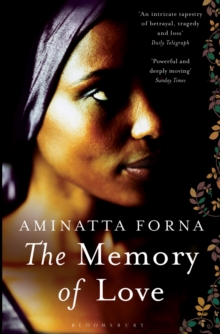 The Memory of Love
Paperback
Description
Freetown, Sierra Leone, 1969. On a hot January evening that he will remember for decades, Elias Cole first catches sight of Saffia Kamara, the wife of a charismatic colleague. He is transfixed. Thirty years later, lying in the capital's hospital, he recalls the desire that drove him to acts of betrayal he has tried to justify ever since.
Elsewhere in the hospital, Kai, a gifted young surgeon, is desperately trying to forget the pain of a lost love that torments him as much as the mental scars he still bears from the civil war that has left an entire people with terrible secrets to keep.
It falls to a British psychologist, Adrian Lockheart, to help the two survivors, but when he too falls in love, past and present collide with devastating consequences.
The Memory of Love is a heartbreaking story of ordinary people in extraordinary circumstances.
Information
Format: Paperback
Pages: 464 pages
Publisher: Bloomsbury Publishing PLC
Publication Date: 01/03/2011
ISBN: 9781408809655
Free Home Delivery
on all orders
Pick up orders
from local bookshops
Reviews
Showing 1 - 1 of 1 reviews.
Review by DubaiReader
16/06/2015
A bit confusing, but I'm glad I read it.When I look back over this book and think about its content, I realise that it was quite a fascinating read, with a lot of details that we spent an excellent book group flushing out. However, while I was reading it I was really struggling to keep it flowing. It was a painfully slow read and the majority of my fellow book-groupers felt the same way. I found it very confusing, not least, the nationalities (native African or ex-pat British) of some of the characters and who was speaking when a new chapter started.Set in Sierra Leone, the narrative swaps - a bit irratically - between current time and 1969, when Elias Cole first sets eyes upon Saffia. He is instantly besotted and although she is married, starts to stalk her, even befriending her husband, his colleague, Julius.In current time, Adrian Lockheart, a volunteer psychologist, is listening to the elderly Elias recount his life, but why is he so determined to tell all? Is he trying to rewrite history so that he appears more favourably?The use of the psychologist, Adrian, was an excellent tool to recount many of the experiences of survivors of the 1991-2002 civil war, as he attempts to help them come to terms with their lives. Almost the whole population is suffering from some degree of post taumatic stress disorder after the atrocities.Adrian befriends a fellow hopital doctor, surgeon, Kai, probably the most likable character. Kai is dedicated to his country but has recently started to consider moving to the USA for a better life and to escape his memories.The denouement effectively links Elias, Adrian and Kai in a satisfying finale that joins the various strands of the novel.Although I am glad I read this book, I stand by my 3.5 star rating as I found it rather confusing, especially in the first half. I don't think I'd particularly recommend it and am quite surprised by some of the glowing reviews it has received.