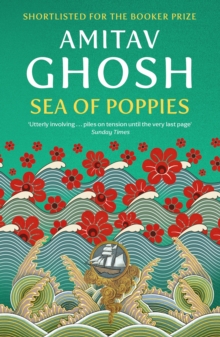 Sea of Poppies : Ibis Trilogy Book 1
Paperback
Description
At the heart of this epic saga, set just before the Opium Wars, is an old slaving-ship, the Ibis.
Its destiny is a tumultuous voyage across the Indian Ocean, its crew a motley array of sailors and stowaways, coolies and convicts.
In a time of colonial upheaval, fate has thrown together a truly diverse cast of Indians and Westerners, from a bankrupt Raja to a widowed villager, from an evangelical English opium trader to a mulatto American freedman.
As their old family ties are washed away they, like their historical counterparts, come to view themselves as jahaj-bhais or ship-brothers.
An unlikely dynasty is born, which will span continents, races and generations. The vast sweep of this historical adventure spans the lush poppy fields of the Ganges, the rolling high seas, and the exotic backstreets of China.
But it is the panorama of characters, whose diaspora encapsulates the vexed colonial history of the East itself, which makes Sea of Poppies so breathtakingly alive - a masterpiece from one of the world's finest novelists.
Information
Format: Paperback
Pages: 544 pages
Publisher: Hodder & Stoughton General Division
Publication Date: 01/04/2009
Category: Historical fiction
ISBN: 9780719568978
Other Formats
EPUB from £5.99
CD-Audio from £13.25
Free Home Delivery
on all orders
Pick up orders
from local bookshops
Reviews
Showing 1 - 5 of 5 reviews.
Review by timtom
16/06/2015
Pukka! With "Sea of Poppies", Amitav Ghosh lets his readers embark on an incredible journey through the fascinating era and language of the Raj and the Opium Wars. Through the pages of this dense novels, they will sway over the sea of passions, fate and adventure like the lascar crew of the Ibis over the fearsome Black Waters!The Glass Palace was already a masterpiece in historical fiction and if this first episode is anything to go by, the "Ibis" trilogy may well turn out to be the next Lord Jim…
Review by klai
16/06/2015
I absolutely loved the depiction of multilingual environments: the profusion of related tongues in India, the bizarre vocabulary of Anglo-Indian, the laskari pidgin, and the nautical jargon of the 19th century. I found the writing to be excellent, the characters good, but didn't feel quite sated by the plot - but will inevitably gobble up the sequels to come.
Review by Tinwara
16/06/2015
This is the story of a wide ranging set of characters, connected by the fact that they end up at the Ibis, a ship setting out from Calcutta to Mauritius transporting indentured labourers and two prisoners. The time is 1838 and The British Empire seems to run on the opium-trade. It is almost impossible to give a summary of the incredible amount of characters and story lines that interconnect in this novel. Where to start? Suffice it to say that Amitav Ghosh is a great storyteller and that a complicated story like this is safe in his hands. It is not always easy reading, because the characters speak the languages and dialects of their times and obviously Ghosh has gone to great lengths to study nautical vocabulary and the slang of 19th century sailors. But it is rewarding too, the funny little miscommunications (that sometimes have great implications) and the way Ghosh sweeps his reader to a different timespan, which really comes to life.The only rather bad thing about this book is that it is actually the first part of a trilogy, so it is open-ended, and it is going to be really difficult to remember all the characters and their complicated relations towards each other by the time the next parts get published. (Very lucky for me that at least part 2 is scheduled for publication this coming June!)
Review by Eyejaybee
16/06/2015
An immensely enjoyable novel featuring a great host of characters and several interlaced plotlines.Set principally in British-occupied India in the 1830s it centres around the boat Ibis, owned by Benjamin Burnham, a British merchant based in Calcutta who has, hitherto, made the greater part of his fortune from trading in opium which he has exported to China. Now faced with a crackdown by the Chinese regime this lucrative line of business is under threat, and Burnham decides to diversify into trafficking labourers from India to Mauritius to work in plantations, to replace the slaves whose use has now been made illegal.There are four principal characters: Deeti is a young Indian woman who was married, against her will to an opium addict. When he eventually succumbs to his addiction and dies, Deeti is left penniless and with no feasible options in life after she has bestowed her young daughter with her brother's family, and resolves to commit suti, throwing herself on her dead husband's funeral pyre. However, at the last moment Kalua, a physically imposing but intellectually challenged labourer whom she once rescued from grotesque (though hilariously-described) ridicule, charges in and plucks her from the pyre, and sails off down the River Hoogly.Paulette is the orphaned daughter of a celebrated but impecunious French naturalist who has been taken in by the Burnham family. However, despite the Burnhams' attempts to foster some gentility in the young Frnech girl, she remains a tomboy at heart, though completely innocent of many of the more unseemly aspects of life. Eventually the joint impact of the shock when Benjamin Burnham reveals some of his personal idiosyncrasies, coupled with his attempts to marry her off to an aging judge, drives her to run away, and, having disguised herself as an aged Indian widow, she boards the Ibis hoping to escaped undetected to Mauritius where her forebears had lived briefly.Zachary Reid is an American of mixed race, and clearly the most decent male character in the book. Having gone on board in baltimore as a basic crew member he works his way up to second mate, largely because of the mutual respect he shared with Serang Ali, leader of the lascars who make up the crew. He meets, and is immediately smitten by Paulette at the home of her guardians (before her decision to flee).Neel Rattan Halder is a rajah whose extensive estates have gradually become indebted to Burnham, who, suffering as a consequence of the reduced opium exports, now calls in the debt. Having refused to pay up, Halder finds himself in court being prosecuted on a casuistic charge of forgery. Having been convicted he is sentenced to transportation to Mauritius where he will have to undertake a period of hard labour. He is manacled and brought on to the Ibis...Ghosh manages all of the separate plotlines with great deftness, and his characters are carefully drawn.The story is vividly told, with great boisterousness, and i am very eager to read the next instalment (The River of Smoke).All in all a very jolly read!
Review by PilgrimJess
16/06/2015
Firstly it is worth noting that this is the first book in a trilogy, a fact that it is not obviously apparent from the cover of the book although it is mentioned with the reviews inside. Also the fact that it was shortlisted for the Man Booker Prize may cause mixed reactions, some will want to read it all the more whereas others may be put off by the fact. I was drawn to it as I like historical novels and knew little about the Opium Wars.The book is split into 3 parts, (the land, the river and the sea) and is about a disparet group of characters brought together on the schooner Ibis about to sail from India to Mauritius where each will start a new life.I must admit to struggling initially as Ghosh introduces a very wide set of characters and some of the language is a little hard to comprehend but it is worth sticking with because as you become more accustomed to it so it becomes easier.The book is mainly a critique of the class and caste system in both White and Indian society. The chacters are initially bound by their personal set of ideals/expectations but through shared experiences come to realise that there is good and bad, frindship and cruelty in every individual and each class.The story nips along at a lively pace after the initial introductory phase, it is apparent that the author has done his research into the background of the book and the day but does not overload the reader with it, it is a well thought out plot however, despite ending in a cliffhanger the book lacks of a definate conclusion which will leave some people, me included, a little frustrated. That said I will certainly look out fot part 2 in the trilogy.
Also in the Ibis Trilogy series | View all