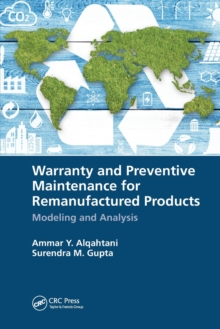 Warranty and Preventive Maintenance for Remanufactured Products : Modeling and Analysis
Paperback / softback
Description
The exponential increase in the development of technology coupled with the customers' immense desire to possess the newest technological products makes for truncated product lifespans, which instigates a substantial upsurge in their rate of disposal.
Attempts have been made to establish specialized product recovery facilities with the intention of diminishing the volume of accumulated waste delivered to landfills using product recovery procedure such as remanufacturing.
The economic benefits produced by remanufacturing also portray the role of product recovery in a more attractive light.
The quality of a remanufactured product is uncertain for some consumers.
Therefore, these consumers possess insecurities in deciding whether or not the remanufactured products will render the same expected performance.
This ambiguity regarding a remanufactured product could possibly result in the consumer deciding against its purchase.
With such consumer apprehension, remanufacturers often seek market mechanisms that provide reassurance as to the stable durability that these products still maintain.
One strategy that the remanufacturers often use is the utilization of the premise of offering product warranties with preventive maintenance on their products. This book is concerned with the practice and theory of warranty management and preventive maintenance, particularly in relation to remanufactured products' warranties.
Models developed in this book can be used for making the right decisions in offering renewable, nonrenewable, one and two dimensional warranty policies, and for managerial decision in considering maintenance contracts or outsourcing maintenance for remanufactured components and products. FeaturesDiscusses a variety of warranty policies and preventive maintenance of remanufactured products (first book to do so) Presents mathematical models and applications for warranty policies using examples and simulation results Considers cost and optimization problems from the remanufacturer's and buyer's points of views Provides a foundation for academicians interested in building models in the area of warranty and preventive maintenance analysis of remanufactured products Offers the essential methodology needed by practitioners involved with warranty and preventive maintenance analysis, along with extensive references for further research
Information
Format:Paperback / softback
Pages:302 pages
Publisher:Taylor & Francis Ltd
Publication Date:31/03/2021
Category:
ISBN:9780367780616