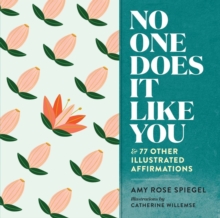 No One Does It Like You : And 77 Other Illustrated Affirmations
Hardback
Description
In a world that demands so much from women, every hour of every day, affirmations are a powerful part of self-care, a way of strengthening the self, quieting the noise, and finding inner peace.
They are simple but potent words that, when spoken with intention as a daily practice, help us become our strongest, kindest, most real, and most comfortably imperfect selves. The eloquent affirmations and vibrant illustrations of No One Does It Like You combine in a fresh, timely way to bring a needed message to millennial women, a way that is wise, beautiful, surprising, and never saccharine or preachy.
The language is singular, personal, memorable: Regard yourself as the moon; wash everything in your light. * When you're tempted to say "I don't know," consider that you do, and try that instead. * Gild the Kingdom of your brain; Keep researching * You can be true evidence of goodness for others. And the art, filled with characters that every reader will relate to, sets the affirmations in a real moment, reinforcing the idea that this is a book to celebrate everything that makes us us - and the message that you, the reader, are not alone.
Information
Format: Hardback
Pages: 160 pages, Full-colour illustrations
Publisher: Workman Publishing
Publication Date: 27/11/2018
Category: Self-help & personal development
ISBN: 9781523505319