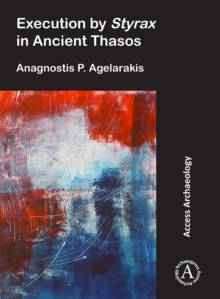 Execution by Styrax in Ancient Thasos
Paperback / softback
Description
Searching through interdisciplinary research to recover echoes of the human condition ingrained as they may be in the skeletal record of the ancients, there have been few cases in the forty year experience of the author which in defiance to the relentless passage of Chr nos and even the chthonic potency of the waters of Lethe to dissolve all strings relating to Mnenosyne could offer compelling evidentiary data, critical for generating meaningful interpretive answers as a nexus to life pathways and experiences in antiquity, reflective of dynamics and circumstances, that were not always possible to be recorded or spoken of by the attendants of Cleo. And yet in rare cases, millennia later, ostensibly through the works of Lachesis, a synergy between the fields of Archaeological Anthropology and Bioarchaeology may offer a unique portal whereby the dictum mortui vivos docent may be reiterated.
Sharing in the objectives of an ongoing archaeo-anthropological endeavor, aiming to better decipher and elucidate facets of the human condition while carrying out funerary archaeological research of Hellenistic to Roman periods family graves at the extensive ancient necropolis of Thasos, the most northern Aegean island, this essay addresses a case of unique forensic / bioarchaeological interest involving an older male individual, a member of one of the clusters of burials, who had been placed as a single interment in a most conspicuous limestone cyst grave of the Hellenistic period.
While odontological, cranio-infracranial skeleto-anatomic manifestations and palaeopathologies revealed a detailed rostrum on aspects of his developmental growth, of acquired and degenerative somatic changes, reflective of his life experiences which involved long term most active participations in physically demanding yet specialized activities, a staggering 'through and through' sternal trauma of astonishing preservation, provided for a distinct opportunity to conduct a unique cross-disciplinary investigation on the nature of the weapon reconstructed in bronze, the archaeometry on the trajectory and factors of speed and force at the deliverance of the strike, along with the diagnostic assessments of the thoracic tissues pierced consecutively and their moribund consequences.
A review of historical references on the implementation of capital punishment either through the decision of a dicastic or ephetic court, and/or execution carried out as a result of outlawry are evaluated in relevance to funerary practices as these pertained to the interment of the Thasian male within the context of the burial ground, offering in retrospect assessments on the probable cause of his violent death.
Information
Format: Paperback / softback
Pages: 52 pages, 33 figures, 5 graphs (27 plates presented in full colour)
Publisher: Archaeopress
Publication Date: 26/04/2019
Category: Classical Greek & Roman archaeology
ISBN: 9781789692129
Free Home Delivery
on all orders
Pick up orders
from local bookshops
Also by Anagnostis P. Agelarakis | View all