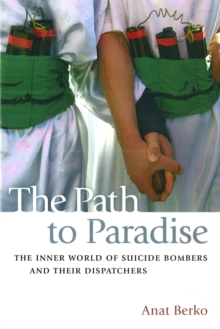 The Path to Paradise : The Inner World of Suicide Bombers and Their Dispatchers
Paperback / softback
Description
Suicide bombers are often compared to smart bombs. From their dispatchers' point of view, they are highly effective, inexpensive weapons, and there is no need to invest in their technological development.
Suicide bombers are in fact smarter than smart bombs because they can choose their own targets and can react to circumstances on the ground, changing their target or their timing in an instant to ensure the maximum damage, destruction, and death.
Of course, unlike smart bombs, suicide bombers think and feel.
They have histories, stories, beliefs, and desires. In short, they have an inner world. Exploring the inner world of suicide bombers has been the focus of Anat Berko's research for years.
What are their thought processes? Do male bombers really believe that death will transport them to a paradise inhabited by virgins?
What are female bombers promised in the hereafter? Berko also explores the world of those who "drop the smart bomb"- the dispatchers.
Who are the people who persuade others to go calmly to their horrific deaths?
To learn about the inner world of suicide bombers and their dispatchers, Berko entered Israel's most heavily secured prison cells and conducted intensive and extensive interviews with male and female suicide bombers who had failed their missions, as well as with their dispatchers-including former Hamas spiritual and operative leader Sheikh Ahmed Yassin (later assassinated by Israeli Defense Forces).
With a foreword by Moshe Addad.
Information
Format: Paperback / softback
Pages: 196 pages
Publisher: Potomac Books Inc
Publication Date: 31/03/2009
Category: Terrorism, armed struggle
ISBN: 9781597973649
Free Home Delivery
on all orders
Pick up orders
from local bookshops