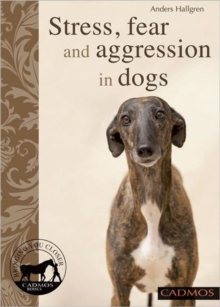 Stress, Anxiety and Aggression in Dogs
Paperback / softback
Description
Stress, anxiety and aggression are processes that take place in the body in fairly similar ways, both in people and in dogs.
To begin with, this book precisely describes what can trigger stress in dogs and the physiological processes in the body that are affected as a result.
Stress can only be counteracted once you know what it does to the body and how the brain responds to it.
The author then goes into detail about all possible stress factors in dogs and describes how these stressors can be avoided.
Finally, possible treatment methods are described and practical information is given on avoiding and alleviating stress and the canine problem behaviour commonly associated with it.
Information
Format: Paperback / softback
Pages: 144 pages, approx. 90 coloured images
Publisher: CADMOS Publishing Limited
Publication Date: 01/03/2012
Category: Dogs as pets
ISBN: 9780857882042