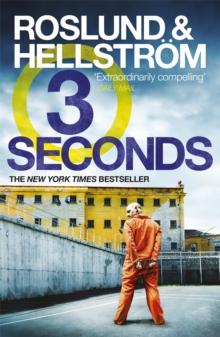 Three Seconds : Ewert Grens 4
Paperback
Description
WINNER OF THE 2011 CWA INTERNATIONAL DAGGER. A NEW YORK TIMES TOP 5 BESTSELLER. AND SOON TO BE A HOLLYWOOD BLOCKBUSTER - SCANDINAVIAN CRIME DOES NOT GET MORE EXPLOSIVE. 'Extraordinarily compelling' Daily Mail 'Three Seconds is just about how long it feels it takes to read Three Seconds ...Terrific' Time Out ONE MURDER. Piet Hoffmann is the Swedish police force's best undercover operative.
Not even his family know of his double identity. Yet when a drug deal with the Polish mafia goes fatally wrong, his secret life begins to crumble around him.
TWO MEN. Detective Inspector Ewert Grens is charged with investigating the drug-related killing.
Unaware of Hoffmann's true identity, he believes himself to be on the trail of a dangerous psychopath.
THREE SECONDS. Hoffmann must desperately maintain his cover; else he is a dead man walking.
But, in the doggedly-perceptive Ewert Grens, he has just made the most relentless of enemies.
Can't get enough of DCI Ewert Grens? Then check out Cell 8, named by the Sunday Times as one of the 60 Best Thrillers and Crime Novels of the Past 6 Years.
Information
Format: Paperback
Pages: 640 pages
Publisher: Quercus Publishing
Publication Date: 01/02/2011
Category: Crime & mystery
ISBN: 9781849161527
Free Home Delivery
on all orders
Pick up orders
from local bookshops
Reviews
Showing 1 - 2 of 2 reviews.
Review by johnbsheridan
16/06/2015
A book that I thoroughly enjoyed having heard good things about both it and its predecessor "Box 21". It does come tagged inevitably with the "new Stieg Larsson" label attached but aside from locations doesn't actually share too much with the Millenium trilogy as it is less overtly political and consequently tighter overall and becomes one of those books that you don't want to put down and makes me want to read more from this writing team. Possible spoilers below.Piet Hoffmann alias Paula is living a double life - one as husband & father and a second as an undercover informant for the police seeking to infiltrate the Polish mafia. When a drug deal goes bad and an undercover policeman is killed, Piet reports it but while one detective leads the murder inquiry, Piet's handler is fully aware of all the details and together with the upper echelons places the truth under wraps in pursuit of the bigger fish. As Ewert Grens leads the inquiry he manages to discover a link to Piet which leads those in power to decide that the situation is too risky and to leak Piet's activities to the Polish mafia and let them resolve the problem. A tense finale ensues as Piet has to stay alive long enough to escape prison, capture & murder in order to get his life and family back. Luckily he is a resourceful character who manages to stay one step ahead of a sniper's bullet amongst other things. But who will pay the price?
Review by Twink
16/06/2015
Scandanavian authors have just exploded on North American reading lists following the runaway success of Stieg Larsson's books.Finished that series and looking for another? You've got to try Three Seconds by Anders Roslund and Börge Hellström from Sweden. This pair are Sweden's number one crime writers. Here's the interesting thing - Roslund is an award winning journalist and Hellström is a an ex con. The combination of their talents and viewpoints have made their books a hit. Three Seconds was the Best Swedish Crime Novel of the Year in 2009.Piet Hoffman is a police informant, deep undercover, having infiltrated the Polish mafia. One last mission and the cops will have what they want and Piet can 'retire' into anonymity with his family. The job - go into the worst prison in Sweden and take control of the drug trade. With assurances that they'll try to get him out if things go bad, Piet agrees. But once he's in - he's on his own...DI Ewert Grens is unaware of Piet Hoffman until his name comes up in a murder case. As Grens follows the threads of his investigation, it leads to more than just a simple murder. Ewert Grens is a character I want to read more of. He is an emotionally wounded man and very eccentric, but also terribly clever. Past cases are alluded to, but this never detracted from this book as a stand alone.I couldn't put this one down. It's a gritty, gripping read that delves into the shadowy underworld. An intense, intrically plotted story that kept me turning pages. The ending was very clever - loved it.Three Seconds is now on the New York Times bestseller list.
Also in the DCI Ewert Grens series | View all