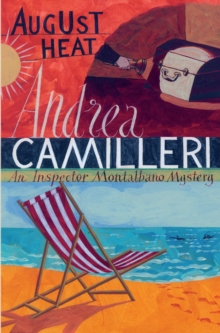 Description
As seen on TV: now a major BBC4 television series. Montalbano quickly slammed the trunk shut and sat down on top of it.
When the beam from Livia's torch shone on his face, he automatically smiled. 'What's in the trunk?' Livia asked. 'Nothing. It's empty.' How could he possibly have told her there was a corpse inside?
The lazy, slow month of August at the height of the Sicilian summer is, Inspector Montalbano assures his girlfriend Livia as they prepare for a relaxing holiday in a villa he has found for them, far too hot for any murders to be committed.
But when Livia's friends' young son goes missing, a chain of events is sparked which will certainly ruin the Chief Inspector's pleasant interlude.
A secret apartment and a grisly find in an old trunk are just the beginning, as Montalbano navigates his way though the case, as well as coping with the sweltering heat, the suspicious death of an Arab labourer and the tempting lure of a beautiful girl ...'A magnificent series of novels' Sunday Times 'Wonderful Italian detective stories' Guardian
Information
Format: Paperback
Pages: 320 pages
Publisher: Pan Macmillan
Publication Date: 04/06/2010
Category: Crime & mystery
ISBN: 9780330457309
Other Formats
Paperback from £6.09
EPUB from £3.59
eAudiobook MP3 from £11.72
Free Home Delivery
on all orders
Pick up orders
from local bookshops
Reviews
Showing 1 - 3 of 3 reviews.
Review by smik
16/06/2015
August is not the month to be working in Sicily. The heat is oppressive, sweat-drenching, and, if you have no airconditioning, almost unbearable. Inspector Salva Montalbano had intended to leave Vigata to spend the holiday season with his girlfriend Livia, somewhere cooler.When Salva has to work after all, Livia decides to rent a house by the sea near Vigata. She brings the family of her dearest friend with her. The house has been a summer rental for the past six years ever since its German owner died and his stepson mysteriously disappeared.The troubles at the beachside house begin on the morning of the third day with an invasion of an army of black cockroaches. On the fifth day it is mice, and then on the eighth, spiders. On the eleventh day 3 year old Bruno, the son of Livia's friends, disappears. Montalbano discovers that he has slipped down a narrow shaft leading under the house. In rescuing Bruno, Montalbano uncovers a six-year old murder.AUGUST HEAT is one of those novels where the weather, the almost unrelenting and palpable heat, becomes one of the cast of characters. Livia and her friends leave after the discovery of the body and so Montalbano doesn't even have her as a distraction.Reconstructing events that are dead cold is never easy. People's memories are less than precise, witnesses are no longer available, and murderers cover their tracks. Montalbano's peeling back the layers is what makes AUGUST HEAT good reading.It seems that in the original Italian Camilleri attempted to reproduce the sounds of speech of Montalbano's assistant Catarella. The results of the translation into English are almost comic, and had me reading Catarella's utterances very carefully."Catarella? Montalbano here""I already rec'nize ya inasmuch as yer voice is all yours, Chief."AUGUST HEAT is #10 in Andrea Camilleri's Inspector Montalbano series. I have only read one or two others, but was able to enjoy this title almost as a stand-alone.
Review by bsquaredinoz
16/06/2015
It's August and Inspector Salvo Montalbano of the fictional Vigata police force (in the very real Sicily) is due to be joined by his girlfriend for a summer holiday. Knowing that he is often caught up with an investigation Livia demands that he finds a rental house for some friends of hers so that she won't be bored while he works. Given the time of year he is very lucky to find something but it turns out to be a bit of a horror house. The family is treated to several infestations of creepy-crawlies and then their young son disappears. This leads to uncovering corruption in the local building industry and finding a hidden dead body.<br/><br/>When they talk of this series most people talk of two things, the first being the characters. They certainly are terrific. I found Montalbano funny, nicely odd and a bit annoying at times but that did seem to make him more realistic that if he'd been entirely quirky and lovable. His penchant for stripping down to his swimming trunks at every available opportunity and his quest for a decent meal mostly made up for the somewhat tiresome ageing-related angst. The other characters that I assume are regulars, such as his intelligent offsider Fazio and the devoted if fairly incompetent Catarella, provided good contrast and most of the laughs. It is here too that Stephen Sartarelli's translation kicks up a notch (from a starting point of excellent) to deftly show the divergent linguistic styles of the players. I did find the female characters a bit more stereotypical, and therefore far less interesting, than the men but it's a minor point.<br/><br/>The other aspect of these books that is always talked about is the depiction of Sicilian life and that was the standout feature for me. Of course there is the ever-present influence of the Mafia and the creative mechanisms the Police have to devise to thwart the institutionalised corruption but there are wonderful small details as well. Surely there's nowhere else in the world that a suspect who felt a bit faint would be treated to a cognac? The August heat of the setting was also quite brilliantly depicted, though I thought they all needed to toughen up a bit but I admit I am a bit biased living in a place which endures many months of such heatwaves every year.<br/><br/>I'm afraid I didn't find the plot completely riveting though. For the first half it was decent enough but it really did become predictable and silly and Montalbano's actions at the end were quite daft. Overall though it was a particularly fast book to read and I did have a smile on my face for a jolly good portion of it. I did enjoy the humour and the characterisations of both the people and the place and I will seek out at least one of the earlier books in this series before making a final judgment on the canon.
This could have been the best book in the world and all I would have remembered is the thing about cockroaches. It's literally wiped my mind clean of any other detail about this book. From the two stars, I'm guessing it wasn't one of my favourites. I think the hight point of this series for me is still Montalbano using his underwear to drag a corpse from the sea and that time he got almost got shot in the colon. Good times.