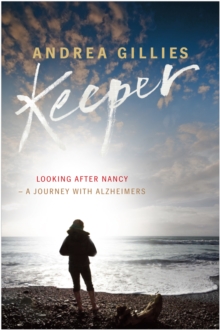 Description
When her mother-in-law, Nancy, was diagnosed with Alzheimers, Andrea Gillies made the decision to care for her full time. 'Keeper' is the result of this - a frank, moving and utterly gripping account of Alzheimers and its impact on one family.
Information
Format: Paperback
Pages: 256 pages
Publisher: Short Books Ltd
Publication Date: 02/03/2009
Category: Memoirs
ISBN: 9781906021658
Other Formats
Paperback from £7.69
EPUB from £7.19
Free Home Delivery
on all orders
Pick up orders
from local bookshops
Reviews
Showing 1 - 1 of 1 reviews.
Review by FlossieT
16/06/2015
I first came across Andrea Gillies in the Family section of the Guardian, sharing an extract from her journal of her time looking after her mother-in-law, who was in the advanced stages of suffering from Alzheimer's. The piece aroused the ire of many a sensitive Grauniad reader, who felt Gillies was invading her mother-in-law's privacy in setting down plainly the messy reality of mental degeneration. How you are supposed to prepare to deal with an illness if no one talks about it in any detail, I have no idea.The journal eventually evolved into Keeper, a memoir-cum-science-book spanning the three years Gillies spent looking after Nancy, moving to a large house on the coast with her husband, their three children, Nancy, and Nancy's husband Morris. Gillies does not pull her punches: the harsh reality of the effects of Alzheimer's, from the aimless wandering to physical violence to embarrassing public nudity, are all set down unflinchingly. So, too, are the emotions Nancy's behaviour provokes in Gillies and, to a lesser extent, her family; she explores not just the practical, clinical realities of the illness, but also the impact that it has on those who are caring.Interspersed with the personal perspective are reflections on the impact of dementia on art and creativity in the "famous", and some truly excellent passages of 'popular science'. Gillies has clearly done her research, and perhaps more importantly, she has a real gift for conveying the scientific and clinical detail of what is happening to the patient as the disease progresses in terms that the average non-scientific reader can instantly relate to. I do slightly wish that she'd provided a bibliography, as she makes frequent reference in the text to the books that she reads about Alzheimer's, which seem to be of wildly varying quality and approach.I was drawn to this in the first instance because of my own very slight experience of dementia - my paternal grandmother suffered from vascular dementia for several years, and her sister died of Alzheimer's; a lot of the descriptions of Nancy's behaviour rang very true when I remember their reactions to the world. But very early on in the book, Andrea Gillies highlights some crucial data points that show the very real need for more people to read this book, beyond those who have been directly affected: the ageing of the population, coupled with a dementia rate that is expected to double in the next 20 years, is leading towards an explosion in the numbers of dementia patients - and correspondingly, in the number of people who will have to care for them, in particular because the UK system is geared towards home care for as long as possible, something that Gillies sets out in heartrending detail.Dementia is not sexy. It's messy. It's embarrassing. It's expensive. It's upsetting. But it's happening, and more and more of us are going to have to deal with it firsthand. I can think of no better preparation than to read Keeper. Highly recommended - not just by me, but by the judges of the inaugural Wellcome Prize for Science Writing, who gave it the nod despite it astoundingly attracting no reviews in any major UK newspaper.