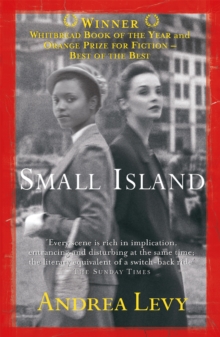 Small Island: Winner of the 'Best of the Best' Orange Prize
Paperback
Description
Small Island by bestselling author Andrea Levy won the Orange Prize for Fiction, as well as many other awards, including the Commonwealth Writers' Prize and the Whitbread.
Now a major BBC drama starring Benedict Cumberbatch and Naomie Harris, its enduring appeal will captivate fans of Maya Angelou and Zadie Smith. 'A great read... honest, skilful, thoughtful and important' - GuardianIt is 1948, and England is recovering from a war.
But at 21 Nevern Street, London, the conflict has only just begun.
Queenie Bligh's neighbours do not approve when she agrees to take in Jamaican lodgers, but Queenie doesn't know when her husband will return, or if he will come back at all.
What else can she do? Gilbert Joseph was one of the several thousand Jamaican men who joined the RAF to fight against Hitler.
Returning to England as a civilian he finds himself treated very differently.
It's desperation that makes him remember a wartime friendship with Queenie and knock at her door.
Gilbert's wife Hortense, too, had longed to leave Jamaica and start a better life in England.
But when she joins him she is shocked to find London shabby, decrepit, and far from the golden city of her dreams.
Even Gilbert is not the man she thought he was...
Information
Format: Paperback
Pages: 560 pages
Publisher: Headline Publishing Group
Publication Date: 13/09/2004
ISBN: 9780755307500
Free Home Delivery
on all orders
Pick up orders
from local bookshops
Reviews
Showing 1 - 5 of 21 reviews.
Previous | Next
Review by bibliobibuli
16/06/2015
Years ago, I remember a friend from the British Virgin Islands telling me about "island mentality" - how your whole world view is governed by the geography of the place where you grew up and how islanders have a naturally limited world view. The smaller the island, the smaller the mindset.Which island is Levy writing about? There's Jamaica, geographically small, a far-flung outpost of the British Isles which nevertheless sends soldiers to fight for "the mother-country" in World War Two, and later provides an army of workers to fill the menial posts the British themselves eschew.Then there's Britain, larger, but still an island. (As someone remarks in the book, everywhere else is overseas from Britain.) And the inhabitants defintely demonstrate a smallness of mind and a deeply entrenched prejudice against those with a different skin colour.Small Island is the story of four characters: Gilbert who leaves Jamaica to join the RAF when war breaks out and finds himself stationed in Britain; Hortense, a prim and proper school teacher, a dyed-blue anglophile who marries Gilbert simply to fulfil her fantasy of living in Britain; their landlady, Queenie, a kindly and gregarious Englishwoman who escapes the drudgery of being a butcher's daughter to find herself married to a a dull banker; Bernard, her husband, who finds himself framed and disgraced in the war in India. Much of the joy of the book is the interplay of voices, as each character steps forward to tell their own story in an interweaving of past and (1948) present.I fell in love with Gilbert who speaks in a Jamaican patois (that reminded me of the West indian kids I used to teach) and read the parts of the book he narrated with a big smile on my face (especially the account of his cousin losing the bees that were supposed to net them a fortune). And there is gentle comedy in the growing love between Gilbert and Hortense that absolutely delights.There's no defense that I can make (as a Brit) when confronted with the kind of prejudice the book depicts - I think Levy probably got got it exactly right.Would I recommend it?Definitely. A very enjoyable read.
Review by herschelian
16/06/2015
Deserves all the plaudits it has had. A brilliant study of two strong women and the race relations in Britain post war. Read for the Bookgroup in 2005.
Review by dylanwolf
16/06/2015
I will admit a weakness for novels with multiple narrators. I hate getting stuck with the company and viewpoint of a character I loath. This novel avoids that issue by having four such protagonists. Swapping skillfully between them Andrea Levy explores the experiences of Jamiacan immigrants arriving in an austere, grey, rationed post-war England. She has superb control over the different voices and delivers a moving and intricate plot with a sharp pace that keeps the reader turning those pages. Prejudice-busting, informative, thought-provoking and emotional this is a book is not one to miss. If you want to up the stakes even further in tackling the racial divide read Toni Morrison's immaculate classic Beloved.
Review by ablueidol
16/06/2015
Love stories that switch between characters view points and time/locations. It keeps my interest and makes for more complex characters as your judgements are changed experience more of the characters past and future during the novel. Also a useful reminder of the casual and open racism based often on ignorance in England that was the norm in the 40's and 50's And the support that the non white empire gave England. But also useful to remember that there was from the start individuals who saw humanity first and colour last. Yet the core of the appeal is that we are pulled into a well observed world with characters that we shed a tear with or feel angry about when mistreated.
Review by liehtzu
16/06/2015
Truly a great read, a beautifully written insight into the workings of marriage, fidelity, love and lovelessness in the context of post war Britain and the arrival of black folks in numbers for the first time to the shores of Albion. An illustration of the innate decency of the English notwithstanding their occasional struggles with racist motivations.