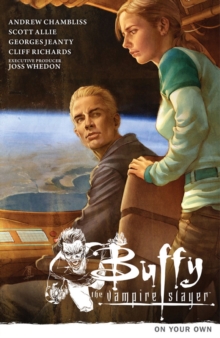 Buffy the Vampire Slayer Season 9 Volume 2: On Your Own
Paperback
Information
Format: Paperback
Pages: 144 pages, 1 Illustrations, unspecified
Publisher: Dark Horse Comics,U.S.
Publication Date: 04/12/2012
Category: Horror & ghost stories
ISBN: 9781595829900
Free Home Delivery
on all orders
Pick up orders
from local bookshops
Reviews
Showing 1 - 3 of 3 reviews.
Review by catfantastic
16/06/2015
[SPOILERS]I was disappointed with the way the cliffhanger from the previous volume was resolved. Buffy turns out to be a robot (okay . . .) but she has her mind and memories because Andrew switched them into a "Buffybot," without her knowing (yuck). This was apparently some twisted scheme to keep her safe (and when has BUFFY needed to be "kept safe"?!) Anyways . . . Xander is grossly out-of-character (though maybe this is hinting at a future plot development?) and the overall arc of this "season" is hard to see at this point. It feels a little directionless. The Spike and Buffy relationship is there, but it doesn't really go anywhere. It just feels like old stuff being rehashed. On the positive side, Cliff Richards's art is a huge relief. Georges Jeanty's stuff makes me cringe. I miss Willow. Also, pink streaks don't really work for Buffy. I hope they pick up their game in Volume 3.
Review by District13
16/06/2015
Nice not to have to leave the Buffy-verse just yet, but S9 doesn't quite hold one's attention the way that S8 did. Still worth a read though.
Review by fyrefly98
16/06/2015
Summary: In Volume 2, "On Your Own", Buffy has a pregnancy test turn up positive, so she is forced to take a minute to confront the possibility of a normal life, a normal family, whether these are things that she can have, or if they're things she actually wants, and whether things like "normal" can coexist with being the Slayer, even in a world without magic.Review: I think Season 9 was a lot stronger than Season 8. Not every single thing Buffy does has to be preventing a world-ending apocalypse (although it usually works out that way) and I think that by keeping her storyline a little smaller and her motivations more focused (figure out life, navigate relationships, deal with a changed world, kill vampires, protect the people you love), the writers managed to keep the series reigned in to a more manageable scope, and kept it feeling more like the TV show and less like a trip to crazy-town. One of the key differences, I thought, was that S8 had a lot of stuff that felt like the writers were doing it because they didn't have to worry about special effects budgets anymore, so they could have all the special effects they wanted. On the other hand, there was very little in S9 that felt like it was something that couldn't have been filmed, which is I think how comics should be: a little something extra that we can't get from TV, but not so much that it loses touch with the spirit of the original series. And the Buffy comics, particularly S9, are good about keeping the flavor of the original. The characters all sound like themselves, even as they grow and change in response to what's happened in their lives. The patter of the dialogue still flows the same. The characters… don't quite look the same (in the panels, at least; the cover paintings are quite realistic), but that's not new to this season, and at least they're all consistently identifiable (except for Andrew, who in my opinion is probably the character that looks the farthest from the actor). So overall, I really enjoyed these; they've got the signature Buffy mix of humor and heart and supernatural ass-kicking, all while sticking a little closer to the types of stories that made the series so great. 4 out of 5 stars.Recommendation: I can't imagine these comics making a lot of sense to someone who hasn't seen the whole series and read season 8 (and maybe some other stuff as well; this season involved some Angel references, and probably some things from the other Buffyverse comics that I don't read that went right over my head.) But for fans of the show, this season is a lot more satisfying than S8.