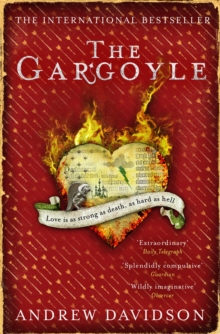 Description
A young man is fighting for his life. Into his room walks a bewitching woman who believes she can save him.
Their journey will have you believing in the impossible. The nameless and beautiful narrator of The Gargoyle is driving along a dark road when he is distracted by what seems to be a flight of arrows.
He crashes into a ravine and wakes up in a burns ward, undergoing the tortures of the damned.
His life is over - he is now a monster. But in fact it is only just beginning. One day, Marianne Engel, a wild and compelling sculptress of gargoyles, enters his life and tells him that they were once lovers in medieval Germany.
In her telling, he was a badly burned mercenary and she was a nun and a scribe who nursed him back to health in the famed monastery of Engelthal.
As she spins her tale, Scheherazade fashion, and relates equally mesmerising stories of deathless love in Japan, Greenland, Italy and England, he finds himself drawn back to life - and, finally, to love.
Information
Format: Paperback
Pages: 502 pages
Publisher: Canongate Books Ltd
Publication Date: 01/01/2009
ISBN: 9781847671691
Free Home Delivery
on all orders
Pick up orders
from local bookshops
Reviews
Showing 1 - 5 of 12 reviews.
Previous | Next
Review by Booksloth
16/06/2015
I bought this book with tokens just after Christmas and chose it during a semi-manic blitz on my local Waterstones: I saw it, it spoke to me, I grabbed it - sometimes those are the best choices and sometimes they are the worst and, in this case, the grab was inspired. The Gargoyle is about a formerly beautiful young man who loses his looks, and very nearly his life, in a horrific car accident. On awakening in hospital, he is joined by a woman sculptress who claims to have known and loved him throughout a number of former lives. The book takes us through a series of semi-magical stories that run from medieval times to the present day (incidentally teaching me, at least, more than I ever really wanted to know about the treatment of burns victims through the ages). I was utterly lost in this book from page 1 onwards and stayed up until the early hours of the morning on two occasions because I couldn't bear to stop reading.
Review by riverwillow
16/06/2015
I loved this book, the mixture of past and present, truth and possible fable wound around an unusual and magical love story is amazing. This book is nuanced and layer as well as being a good read.
Review by wendyrey
16/06/2015
A young man is badly burned and ends up meeting, going to live with and, eventually falling in love with a female sculptor who appears to have a bi-polar illness. Reads like a thriller but features complex ideas of identity and love.
Review by phoebesmum
16/06/2015
The narrator of the book (it possibly doesn't bode well that I read the whole thing without ever realising he never gives us his name), a handsome but amoral porn actor and producer, is driving down a mountain, off his head on booze and Coke, when he goes over the edge, the car crashes in flames, and he's hideously burnt and mutilated. Luckily for him, he's rich enough – see above re 'porn star' – to be able to afford exemplary medical treatment; at a hospital, furthermore, which appears to have been staffed by Central Casting: he has a grimly dedicated woman surgeon working on him, a badly-dressed and nerdy psychiatrist, a smiling and irrepressible Japanese physical therapist, and three nurses: Serious Nurse, Perky Nurse, and Enigmatic Nurse. Into his hospital room one day comes a stranger, Marianne Engel – and, where the narrator is nameless, Marianne Engel is always referred to by both her names – a sometime psychiatric patient, and an artist who specialises in carving grotesques, more commonly known as gargoyles. She tells the narrator that she carries multiples hearts in her chest, and passes them into her gargoyles as she releases them from the stone. She also tells him that he and she have met before: that they were lovers sometime in the 14th century; he was a mercenary, and she was a nun who left the cloister for him. He died, and she had been waiting ever since for him to return and their story to complete itself.All of which makes for a perfectly adequate novel, if you don't expect too much. Its research shows something shocking – the author might as well just have printed up a couple of articles on burn treatments and a few more on 14th century Germany from the internet and had done with it – and the characters, as I may have hinted previously, are straight out of stock. The narrator does have something of a sense of humour, though, which redeems both him and the book to some extent.It also suffers from Annoying Artiness; the page edges are tinted black, and portions of the text are also blocked out in black. All this actually means is that the pages stick to one another. Which is just ... well. Annoying.
Review by SilversReviews
16/06/2015
"Everyone's past, I try to rationalize, is nothing more than the collection of memories they choose to remember"...pages 487 and 488...paperback edition.A porn star burned in a car crash, a wealthy schizophrenic, undying friendships, and beautiful love stories.The Gargoyle was full of creative ideas, love stories, life lessons, and strange thoughts and happenings, but the title doesn't allow you to even think these things would be inside the book.The Gargoyle goes back and forth in time and is a story about the treatment of a burn victim and how another patient from the mental health ward visits and eventually takes care of him at her home. There had been a previous connection between them according to the schizophrenic, Marianne Engel, that leads back to the 1300's.Quite interesting storyline...don't want to tell too much because don't want to give the ingenious story away. Book was different and strange, but made you think anything is possible. :) It definitely holds your interest after you get through the first 50 pages.ENJOY!! It was an excellent book.