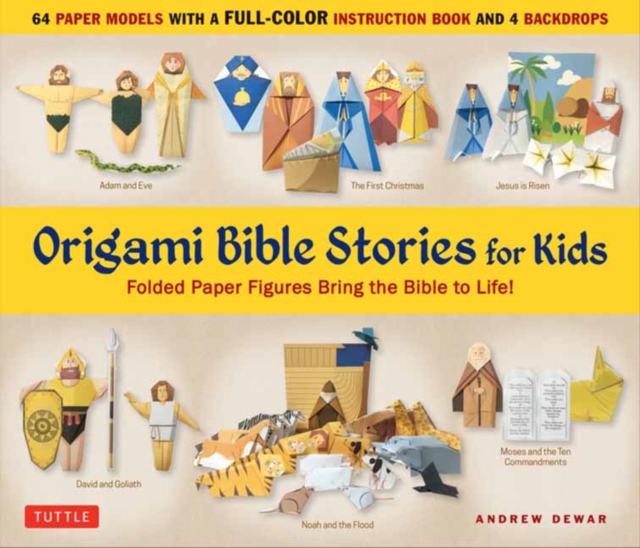 Origami Bible Stories for Kids Kit : Fold Paper Figures and Stories Bring the Bible to Life! (64 Paper Models with a full-color instruction book and 4 backdrops)
Description
Perfect for Sunday school classes, youth groups or family time--this kit enables kids to experience first-hand the life-changing message of the Bible's most powerful stories!This new interactive kit combines the fun of origami paper folding with the joy of recreating and retelling the most beloved stories in the Bible!
The beautifully produced paper models are easy to fold up and the instruction book explains how to use the models to retell the following important stories:Adam and Eve--The creation of the world according to Genesis--beware, there's a snake in the garden!Noah's Ark--Noah and company would have been in over their heads if not for God's providence.
Don't miss the boat!Moses and the Ten Commandments--God liberates the Israelites and shows them a new way to live--it's written in stone!Daniel in the Lion's Den--God rescues his faithful servant from becoming so much lion chow. David and Goliath--David has a giant problem, but God never misses an opportunity to rescue the faithful. The Annunciation--Mary gets good news from none other than the archangel Gabriel--pass it on!The First Christmas--Where does baby Jesus "hit the hay?" In a manger, of course, where both lowly shepherds and noble kings honor him. The Story of Easter--Don't you love a comeback story?
Look no further! After sacrificing his son on the cross, God raises Jesus from the dead, triumphing over death and evil. Christ, the Good Shepherd--This reassuring tale reminds us of a loving God who guards us and guides us--even when things get wild and wooly!Each of these stories is retold in the book, with an explanation of the paper figures provided.
Just a few steps are required to fold each paper model, and the simple instructions are perfect for kids. Intended for children and young adults, these interactive models enable you to retell the powerful biblical stories using lifelike folded paper figurines.
The figures can be displayed as dioramas and to stage miniature reenactments that bring these sacred Bible stories to life for your kids, your youth group or your Sunday school class. Everything you need is in the box--a full-color instruction book, high-quality double-sided papers, and lovely cardstock backdrops which can be used to display them. This kit contains:A full-color 48-page book retelling the 9 famous Biblical stories64 sheets of double-sided folding papers in a variety of sizes and designs33 different models and tableau backdrops to display the stories as dioramasSimple, step-by-step folding instructions for each character
Information
Format:
Pages:boxed kit with a full-color 48-page book, 64 sheet
Publisher:Tuttle Publishing
Publication Date:07/09/2021
Category:
ISBN:9780804853989
Information
Format:
Pages:boxed kit with a full-color 48-page book, 64 sheet
Publisher:Tuttle Publishing
Publication Date:07/09/2021
Category:
ISBN:9780804853989