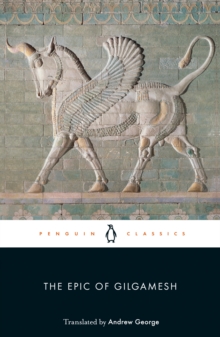 The Epic of Gilgamesh
Paperback
Description
The ancient Sumerian poem The Epic of Gilgamesh is one of the oldest written stories in existence, translated with an introduction by Andrew George in Penguin Classics. Miraculously preserved on clay tablets dating back as much as four thousand years, the poem of Gilgamesh, king of Uruk, is the world's oldest epic, predating Homer by many centuries.
The story tells of Gilgamesh's adventures with the wild man Enkidu, and of his arduous journey to the ends of the earth in quest of the Babylonian Noah and the secret of immortality.
Alongside its themes of family, friendship and the duties of kings, The Epic of Gilgamesh is, above all, about mankind's eternal struggle with the fear of death. The Babylonian version has been known for over a century, but linguists are still deciphering new fragments in Akkadian and Sumerian. Andrew George's gripping translation brilliantly combines these into a fluid narrative and will long rank as the definitive English Gilgamesh.
If you enjoyed The Epic of Gilgamesh, you might like Homer's Iliad, also available in Penguin Classics. 'A masterly new verse translation' The Times 'Andrew George has skilfully bridged the gap between a scholarly re-edition and a popular work' London Review of Books
Information
Format: Paperback
Pages: 304 pages, map, glossary
Publisher: Penguin Books Ltd
Publication Date: 30/01/2003
Category: Poetry by individual poets
ISBN: 9780140449198
Free Home Delivery
on all orders
Pick up orders
from local bookshops
Reviews
Showing 1 - 5 of 6 reviews.
Previous | Next
Review by 06nwingert
16/06/2015
Every religion in the world has a great flood and human redemption narrative, but <i> The Epic of Gilgamesh</i> beat them all. In in attempt to be as philosophical as Socrates, Plato and Aristotle, <i> The Epic of Gilgamesh</i> tells the tale of Gilgamesh, a human attempting to become immortal. When the gods send a great flood, Gilgamesh is saved, and during the flood, Gilgamesh has an enlightened moment.
Review by Zommbie1
16/06/2015
I liked the story. I liked what it had to say about the human condition. I would like to in the future read another translation to see what is different. I liked that the language was accessible, I felt like I could fly through it.However, I am not sure about this translation. Since I have not read The Epic of Gilgamesh before I have no idea if this is how the translations are often done but I found the fact that the volume contained the translations of several tablets annoying. I just wanted to read the story. I didn't really care to compare the Yale tablet with the Pennsylvania tablet. I did appreciate that in the first part they told you when they, due to missing parts switched tablets but I didn't really need the tablet translations again in the following parts. What I also didn't like was the fact that at the start of each tablet they told you what happened. The language in the translations was so accessible that I had no problems following it. I didn't need the short synopsis at the start of each tablet. It really just ruined the story for me. I feel that this edition is paradoxically an edition for high school students to lazy to read the whole thing and an edition for the scholar who wants an introduction to the different tablets. Personally, as someone who just wanted to read the story, I was not well served by this edition. So in conclusion: good story, bad book.
Review by joririchardson
16/06/2015
Don't expect to actually enjoy this book much if you are reading it just because. It is dull, tedious, and complete ancient history mythology. To better understand the story, you might want to research the Persian or Babylonian deities beforehand. Nothing is explained, which can be rather confusing.Also, this book just simply is NOT entertaining, interesting reading. I think that if I had re-read it, this time approaching it as a history or research book, I would have been more appreciative.
Review by evanroskos
16/06/2015
I knew the Biblical flood story felt like a cheap rip-off. Can't Hollywood come up with any original ideas?
Review by saturnloft
16/06/2015
This book reignited my nostalgia for ziggurats and reminded me of how much I actually enjoy the deities of Mesopotamia. They really don't make gods like they used to.I found it amazingly readable, for a 4,000 year old item. The first portion, with it's fun and hi-jinks, slaying of the ogre Humbaba and all that, had me giggling merrily away in Starbucks. Then something terrible happened, but by then I was invested. Funfact not included in this book: According to my mythological dictionary, Humbaba had a beard made of entrails.