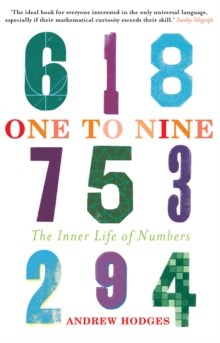 One to Nine
Paperback / softback
Description
What Lynn Truss did for grammar in Eats, Shoots & Leaves, Andrew Hodges has done for mathematics.
In One to Nine, Hodges, one of Britain's leading biographers and mathematical writers, brings numbers to three-dimensional life in this delightful and illuminating volume, filled with illustrations, which makes even the most challenging math problems accessible to the layman.
Starting with the puzzle of defining unity, and ending with the recurring nines of infinite decimals, Hodges tells a story that takes in quantum physics, cosmology, climate change, and the origin of the computer.
Hodges has written a classic work, at once playful but also satisfyingly instructional, which will be ideal for the math aficionado and the Sudoku addict, as well as the life of the party.
Information
Format: Paperback / softback
Pages: 352 pages
Publisher: Short Books Ltd
Publication Date: 31/07/2008
ISBN: 9781906021269
Other Formats
Hardback from £10.35
Paperback from £13.95