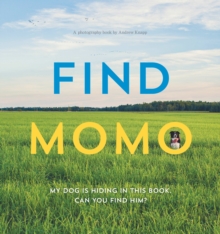 Description
Meet Momo, a border collie who loves tagging along on adventures and getting his picture taken.
Find Momo is more than a photo book: it's a game, and it's up to you to find out where the playful pup is hiding.
Fans of photographer Andrew Knapp's popular blog and Instagram feed will love the whimsical pictures of Momo in his element and all-new adventures as he poses, peeks out, and camouflages himself in all kinds of places.
From simple settings to more complex hide-and-go-seeks, there's lots for dog lovers of all ages to discover.
Information
Format: Paperback
Pages: 144 pages
Publisher: Quirk Books
Publication Date: 04/03/2014
Category: Humour
ISBN: 9781594746789
Other Formats
Paperback from £9.89
Board book from £6.89
Free Home Delivery
on all orders
Pick up orders
from local bookshops
Reviews
Showing 1 - 5 of 14 reviews.
Previous | Next
Review by Ginerbia
16/06/2015
When I showed this book to my daughter, age 17 and son, age 14, their reactions were priceless. My daughter said, "So Momo just runs and hides? That's so adorable!" Then they started looking through the book; all I heard was "Found him!" "Found Him!" "Oh my God, this is so CUTE!" "There he IS!" My daughter actually screamed when she saw the second to the last page where Momo is laying on his back getting a belly rub. "This is... Oh my God, it's so cute, I can't... Oh, look at him!"We have a dog, Eddie, that is part Border Collie and he looks just like Momo, except Eddie is tan. My kids compared what Momo was doing in the photos to what Eddie would be doing instead. Eddie isn't nearly as patient as Momo seems to be.This was a fun book to look at and enjoy with the kids. It's perfect for any age to enjoy.
Review by erinclark
16/06/2015
I am a dog person and Andrew Knapp has created a wonderful photo book that can be enjoyed by people of every age dog lover or not. Knapps photos of rural and urban settings with a cute little black and white face peeking out is a pleasure to read and experience. Some photos are quite challenging to find Momo in, and all are artfully done and a lot of fun. I am impressed with Momos talent of the command 'stay', something I am always working on with my dogs. Beautiful photos and highly recommended!
Review by Twink
16/06/2015
Who is Momo you ask? Well Momo is Andrew's border collie. And he just happens to like to hide. And he sits really still while Andrew takes a picture of him. Lots of pictures. Andrew started sharing them with his Instagram friends.....who shared them with their friends.... who shared it with.... and in a few weeks there were more than 50,000 followers! Blogs and news outlets picked up the story as well. "Watching the photos go viral was fascinating. Maybe it's the photography, or maybe it's the game of hide-and-seek. I would hope it's a mix of the two."Andrew is a very talented photographer. His choice of backgrounds for the Momo photos are eye catching before you even begin to look for Momo. And looking for Momo is fun - and not as easy as you would think in some photos. Find Momo is just one of those quirky books you can't help but read. And enjoy. If you liked finding Waldo, you'll love finding Momo. The little tidbits that Andrew shares about Momo are fun and Knapp himself is pretty interesting. Check out his website. And I would love to take a road trip on backroads with my dog as well!Knapp posts a new photo everyday on GoFindMomo.com or you can follow along on andrewknapp on Instagram as well. (Peek inside Find Momo)Now, I must admit I have a bias.....I too have a border collie. Abby is getting on in years - she's twelve now. But she is still light on her feet, appearing where you least expect her to. She's the best listener in the world and her big brown eyes are so expressive. And like Momo, she's a head tilter - I do think it's a Border Collie thing.
Review by fuzzi
16/06/2015
What fun! "Find Momo" is a book I won through LT's Early Reviewer program, and a book that I plan to keep. The author has compiled photos of his Border Collie, "Momo", hiding in different settings...sort of like a canine "Where's Waldo". It's not always obvious where Momo is hiding in each picture, but if you give up, the answers are at the end of the book.Enjoyable for all ages!
Review by doggonelaura
16/06/2015
This delightful book arrived yesterday, and of course, I promptly sat down and enjoyed finding Momo on every page!! The photos are so beautiful and interesting, even without the fun of finding a little black and white border collie, that you could just page through the book for the scenery. Then at dinner, my 87 year old mother in law and her 90 year old friend were here--and they poured over the photos, happily exclaiming, "there he is!" as they discovered Momo in many of the pages. I can't wait to share with my 5 year old grandson. Nicely bound, the book is printed on thick paper with great resolution. It can be enjoyed by dog lovers, children, and anyone who likes hide and seek! Also there is a 'answer key' in the back (there was only one photo that I just couldn't find Momo--some are harder than others!), along with more information about Momo and where each photo was taken. Knapp also has a few pages regarding the history of the "find Momo" phenomenon.Easily wins the "fun-est" book I've received as an Early Reviewer, and I enjoyed giving it a read.