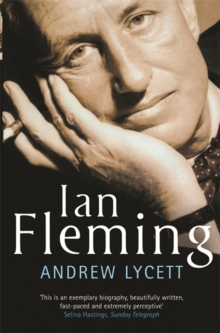 Description
The definitive biography of author Ian Fleming and the perfect read for anyone enjoying the Sky Atlantic biopic starring Dominic Cooper.Ian Fleming's life was just as dramatic as that of his fictional creation, James Bond. Andrew Lycett's direct access to Fleming's family, friends and contemporaries has enabled him to reveal the truth behind the complicated facade of this enigmatic and remarkable man.
With an extraordinary cast of characters, this is biography at is best - part history, part gossip and part an informed reassessment of one of this century's most celebrated yet mysterious personalities.
Information
Format: Paperback
Pages: 512 pages, 31 Illustrations, unspecified
Publisher: Orion Publishing Co
Publication Date: 04/11/1996
Category: Biography: general
ISBN: 9781857997835
Free Home Delivery
on all orders
Pick up orders
from local bookshops
Reviews
Showing 1 - 4 of 4 reviews.
Review by MrsLee
16/06/2015
First let me say, I did not finish this book. I was interested in Ian Fleming's role in WWII, how much espionage experience he had, and whether he really believed like his main character that women were simply toys to be used and discarded. So I read far enough to answer those questions. His role in Naval Intelligence was extensive, though at the administrative level. He had a very warped view of women and life in general, in my opinion. Now, I cannot blame the author of this book for my unwillingness to finish it, though I may say that I became bored with many of the tedious details and sidelights of people who came into the presence of Mr. Fleming. I think some readers would really enjoy that, especially if they are familiar with the personages of England in the early part of the last century. However, the life of Ian Fleming became very tedious to me. He was a user of people, self-centered and emotionally undeveloped as far as I can tell. Though I can accept that a man such as he could be fascinating to some, he's not to me and I'm not going to waste my time reading the rest of the book. I did find the chapters on the war years interesting though, and since that is why I bought it, I feel I've had my money's worth.
Review by JeffreyMarks
16/06/2015
Rather longish biography of the man who created the James Bond books. It seemed to be a bit long on name-dropping, especially English peerage, and paramours. All the names with little to distinguish them made it confusing at times.
Review by JWarren42
16/06/2015
Like most biographies, the first 200 pages of Lycett's book suffer from the impulse to list every person Fleming ever spoke to once on a train. Finally, though, at around page 216, we get to what we all came for-the genesis and process of the Bond novels. From that point, this book becomes clear and focused, and a joy to read. I appreciated Lycett's literary criticisms as well as his biographical sketches. His prose is clean, only occasionally slipping in to the three or more asides that seem to define the core style of other biography writers. I especially appreciated the last five pages, which let us know how things turned out for Caspar. HIGHLY recommended.
Review by aadyer
16/06/2015
A highly detailed, exhaustatively researched, meticulous account of a complex man, with multiple facets & people, in his life. Nicely paced for the most part, in places there is a feeling of inertia about the narrative, & one feels that this is not due to the subject. It really is however, the definitive account of Ian Fleming. Less so, his creation, but more about him as a person, his peccadillos & the people & women in his life. A cautionary tale, but well told, with local interest to those who, like me, live in Kent. If you're after a James Bond origin story, whilst that material is covered, this probably isn't what you're looking for, dealing as it does, more with Fleming than Bond.