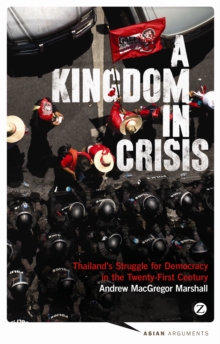 A Kingdom in Crisis : Thailand's Struggle for Democracy in the Twenty-First Century
Paperback
Description
Struggling to emerge from a despotic past, and convulsed by an intractable conflict that will determine its future, Thailand stands at a defining moment in its history.
Scores have been killed on the streets of Bangkok. Freedom of speech is routinely denied. Democracy appears increasingly distant. And many Thais fear that the death of King Bhumibol Adulyadej is expected to unleash even greater instability. Yet in spite of the impact of the crisis, and the extraordinary importance of the royal succession, they have never been comprehensively analysed - until now.
Breaking Thailand's draconian lese majeste law, Andrew MacGregor Marshall is one of the only journalists covering contemporary Thailand to tell the whole story.
He provides a comprehensive explanation that for the first time makes sense of the crisis, revealing the unacknowledged succession conflict that has become entangled with the struggle for democracy in Thailand.
Information
Format: Paperback
Pages: 248 pages
Publisher: Zed Books Ltd
Publication Date: 09/10/2014
Category: Politics & government
ISBN: 9781783600571
Other Formats
Hardback from £61.65
EPUB from £7.98
PDF from £7.98
Free Home Delivery
on all orders
Pick up orders
from local bookshops
Reviews
Showing 1 - 5 of 5 reviews.
Review by acgallegos91
27/08/2015
As an American who has never paid much attention to Asian politics, I found this book to be absolutely fascinating. This book is obviously written for a Western audience as Andrew MacGregor Marshall walks readers through the history of Thailand's monarchy, its current quasi-constitutional monarchy and the ongoing battle to gain control of the country as the death of its do-nothing king looms near. While the book is well researched, MacGregor Marshall approaches Thai politics from the perspective of someone used of idea of Western democracy for all. He sides against the Thai elites in hoping that everyone will have the right/ability to vote, but he does little to capture the political voice of the rural poor and upcoming middle class except in describing what seems like endless coups and protests in the last ten years. The author does a great job in encapsulating the power struggle between the elites, the monarchy, and anyone who attempts to upset the status quo; and the repressiveness of its censorship laws. This book is a good catalyst of anyone looking for further insight into Thai politics.
Review by whitewavedarling
27/08/2015
Marshall's work is an invaluable summing up and examination of the political upheaval present in Thailand, from last century on through immediate history. Describing the balance of power (or rather, the sometimes lack of balance) between the people and the monarchy, and between what is said versus what actually happens, along with the frightening lack of freedom of speech, Marshall moves through recent history with an eye toward analyzing the current political crisis which has been ongoing and is now heightening as the country prepares for what will come with the current king's death, something which may not be far off, given his ill-health. With instability in the country likely to rise and with royal succession under heavy discussion, all of the matters this book tackles have been discussed only rarely because of Thailand's lese majeste law and the utter disconnect between what is said to be happening and what is actually occurring. This author, and this work, has cut through that confusion to attempt an in-depth analysis.For any reader interested in current global politics, in free speech, or in struggles for democracy, this is worth reading, and of course, it will be of interest to readers who want more understanding of the political and cultural climate in Thailand. Marshall's work is smart and well-researched, and his style is both engaging and clear. He carefully documents the peoples' ignored struggles for democracy here, just as he explores the reason that it is still a struggle, and political crisis so clearly in view.All together, this is a stunning and engaging piece of journalism, and well worth the time for anyone interested.
Review by Meredy
16/06/2015
Six-word review: Story behind potentially explosive political drama.Extended review:(An Early Reviewer review)I don't want to insult the author of this book or his subject by speaking of them as if I had the knowledge and authority to comment. I haven't. Apart from an interest in the twentieth-century history of Southeast Asia and a greater-than-average amount of reading on the subject (especially in reference to Cambodia and North Korea), I have no qualifications for discussing this subject. I hope that by acknowledging my relative ignorance up front I may be forgiven whatever lapses my ignorance may cause me to commit.I am, at least, aware that a major drama is playing out in Thailand, where a weak and dying king with a shadow over his own past still holds nominal rule over a fractured, suffering nation whose threatened collapse has incalculable ripple effects for the region and the world.King Bhumibol of Thailand can't live much longer, if indeed he's still alive. Also known as Rama IX, of the Chakri dynasty, he is now 87 years old, the oldest living monarch, and he has reigned since 1946. In recent years, ill and depressed, he's been withdrawn from government, hospitalized and largely nonfunctional. There's reason to believe that some would want to conceal news of his death for as long as possible; so at least a particle of doubt exists as to whether he has already passed on. At any rate, once his death occurs and becomes known, there will be upheaval in this southeast Asian nation of some 67 million people.The passing or abdication of any monarch causes a certain amount of turmoil as the nation makes its transition. Even an orderly, publicly anticipated change of an elected government by established procedures involves some disruption. In Thailand we should expect chaos.There is a natural successor to the throne of Bhumibol, his only son, Crown Prince Vajiralongkorn. For this reason some say that succession is not an issue. But the king's son is hugely unpopular, and the question of who can and will influence and control him is central to the conflict.My current information comes from a book entitled Kingdom in Crisis, written by a journalist who is said to have taken great risks by telling the truth about the state of affairs in Thailand. In so doing he has not only broken societal taboos but violated explicit Thai legal prohibitions against making any public comment touching the royal family that strays from the officially sanctioned narrative. Marshall's story strays considerably.These are some of the major points that I extracted from the book; if they are inaccurately understood or expressed, the fault is mine and not the author's:•  Most of Thailand's so-called history is a fairy tale, revised as often as necessary to support the mythology of the ruling class.•  Despite having become a constitutional monarchy many decades ago, Thailand's gestures toward democracy are mostly show. The powerful appear to support it when supporting it serves their interests.•  Regardless of the nominal system, Thailand is controlled by a few families of the elite, powerful, and fabulously wealthy; the role of the people is to supply taxes and labor.•  The royal succession IS the crisis, whatever others may say. And that crisis is not in the future; it is well under way and has been for a decade.•  A key player is one Thaksin, a former prime minister whose power with respect to the monarchy and the ruling elite is the sword that divides the country.•  The country has undergone several uprisings and is currently under military control.•  The dark shadow of a terrible secret has hung over Bhumibol's entire reign: namely, that Bhumibol gained the throne by killing his older brother, possibly accidentally, when they were both youngsters.•  Among the people who consider themselves royalists, their devotion is not actually loyalty to monarchy per se so much as it is a learned, long-imbued worship of Bhumibol himself, who at one time (with his beautiful queen Sirikit) were seen almost as gods. This dedicated affection does not extend to the crown prince.When King Bhumibol dies, there will be crisis, there will be casualties, and there will be fascinated and possibly horrified spectators. Even if we in the West don't take any direct hits, we'll be seeing the news as it unfolds. A few minutes of broadcast coverage in an average nightly news lineup is not going to yield any understanding of a situation as complex as this one. Marshall's book supplies indispensable context and interpretation for anyone who would like to understand a fraction of what's going on.I'm aware that we're talking about real people here, but I'm going to pretend I'm not. Being king of a country means you're going to be thought of and spoken of as something other than a flesh-and-blood human being whose bodily functions are the same as everyone else's and who either likes or doesn't like jazz and football and broccoli. It's not for want of empathy for someone whose misfortune it is to be born in the shadow of a throne; it's only that the present subject is the welfare of a society—and its effects on the global society—and not the career of an ordinary man.As an interested reader, I found the author's language clear and his well-documented reasoning persuasive. I'm ready enough to believe everything he says, having neither the knowledge nor the framework to evaluate what he's written.Those who already have an interest in Thailand's government and its place on the world stage should find this book strikingly and perhaps even shockingly informative. Those who are new to the subject will discover a deeper and more complex tale of power and intrigue than we typically meet in fiction. Whether out of a genuine interest in understanding a contemporary political drama as it plays out before us or just out of curiosity about the real story behind a frequently romanticized and very ancient Asian nation, readers of A Kingdom in Crisis now have access to a story that many influential people would like to prevent being told.
Review by cammykitty
23/09/2015
I'll start off by saying I don't have much background knowledge on Thailand, just what I know from speaking to Hmong- and Thai-Americans, from reading a biography or two and from researching the ghost Mae Nak. I knew that the Thai language had a special "case" to be used in royalty. One man I met was left with royalty as a child while his parents were out of the country. He found it easier to pretend he didn't speak Thai than to deal with the special version of the language to be spoken around royalty. That said, I'm not a fact checker but what Marshall describes in A Kingdom in Crisis sounds perfectly plausible. He describes a monarchy challenged by two things: the call of the people to democratize and the succession of the crown. He describes Thailand as an oligarchy run by old families, some of which just recently gave up the harems, that is fighting to keep all its power in a world where the "peasants" are educated and the internet circumvents the governments control of the media. If Orwell and been interested in monarchies instead of communist states, this is the kind of world he would have depicted in his fiction.
Review by Matthew1982
27/08/2015
The information covered in this book is fascinating. I have never known much about Thailand. I only knew that it somehow evaded direct European colonization, unlike every country around it, and that it has had coups, revolutions and violence in the streets for the past decade. What the author discusses here explains a lot of it - the isolated king is a puppet for the ruling elite, who have been opposing the nouveau riche Thaksin Shinawatra as well as the pro-democracy masses. Also, Thailand's notorious lèse-majesté law is shown as a bludgeon used to enforce a sort of erratic "discipline" in the absence of real respect for the monarchy. I find that journalists make some of the best book writers, and this book is no exception - there's a flood of information in here, but it isn't overwhelming and isn't expressed in hardcore academic jargon. The reader gets an intro to Thai history, society, royalist mythology, crooked politics, and a variety of other subjects that come together and flow almost seamlessly. Lots of interesting stuff that's delivered well - hard to argue with that.I only have two minor quibbles - one is the typos, which popped up a lot in my (uncorrected proof) copy and hopefully have been fixed in the proper book. The second is that I do not completely buy some of the author's statements about the power of the masses in Thailand. It's likely that I'm very underinformed (he's studied the place for years, I haven't) but I'm a bit skeptical nonetheless.This book is very intriguing and a good explanation for why "riots and violence in Thailand" pops up on the news every once in a while. Easily on the short list for the most informative books I've received via the Early Reviewers group.
Also by Andrew MacGregor Marshall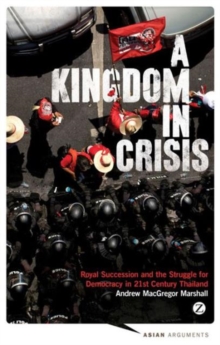 Also in the Asian Arguments series | View all