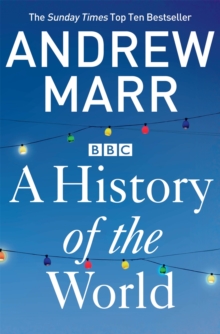 A History of the World
Paperback
Description
Our understanding of world history is changing, as new discoveries are made on all the continents and old prejudices are being challenged.
In this truly global journey Andrew Marr revisits some of the traditional epic stories, from classical Greece and Rome to the rise of Napoleon, but surrounds them with less familiar material, from Peru to the Ukraine, China to the Caribbean.
He looks at cultures that have failed and vanished, as well as the origins of today's superpowers, and finds surprising echoes and parallels across vast distances and epochs.
This is a book about the great change-makers of history and their times, people such as Cleopatra, Genghis Khan, Galileo and Mao, but it is also a book about us.
For 'the better we understand how rulers lose touch with reality, or why revolutions produce dictators more often than they produce happiness, or why some parts of the world are richer than others, the easier it is to understand our own times.' Fresh, exciting and vividly readable, this is popular history at its very best.
Information
Format: Paperback
Pages: 640 pages, Illustrations
Publisher: Pan Macmillan
Publication Date: 01/06/2013
Category: General & world history
ISBN: 9781447236825
Free Home Delivery
on all orders
Pick up orders
from local bookshops
Reviews
Showing 1 - 1 of 1 reviews.
Review by Eyejaybee
16/06/2015
During the Council of Elrond in The Fellowship of the Ring, after Bilbo rather petulantly offers to set his cosy retirement aside and do his bit by taking the Ring to Mordor, Gandalf assuages his ire, saying, "We do not doubt that … you are making a valiant offer. But one beyond your strength, Bilbo." Perhaps it might have been better for all of us if some similarly astute wizard had been on hand to counsel Andrew Marr.I had enjoyed his previous ventures in the field, A History of Modern Britain and The Making of Modern Britain but there he was operating on a far smaller field and negotiating with a much more manageable palette. Between them those two books (each similar in size to this latest offering) merely cover the twentieth century in Britain. To be fair, in the preface he concedes that "writing a history of the world is a ridiculous thing to do", and that encompassing such a subject in one volume is, like Bilbo, over ambitious.He paints in broad strokes, and divides his chapters into general themes, and he certainly amasses an interesting hoard of facts. His journalistic background proves valuables, too, as he corrals them successfully, keeping the reader's interest without overburdening him with minutiae. Still, in one volume such a work can only ever aspire to scratch the surface, and Marr does well not to sink into a sea of platitudes.