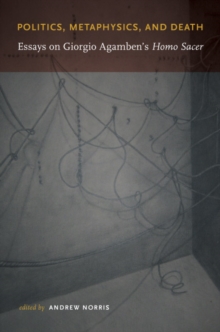 Politics, Metaphysics, and Death : Essays on Giorgio Agamben's Homo Sace
Hardback
Description
The Italian philosopher Giorgio Agamben is having an increasingly significant impact on Anglo-American political theory.
His most prominent intervention to date is the powerful reassessment of sovereignty and the politics of life and death laid out in his multivolume Homo Sacer project.
Agamben argues that in both the modern world and the ancient, politics inevitably involves a sovereign decision that bans some individuals from the political and human communities.
For Agamben, the Nazi concentration camps-in which some inmates are reduced to a form of living death-are not a political aberration but instead the place where this essential political decision about life most clearly reveals itself.
Engaging specifically with Homo Sacer, the essays in this collection draw out and contend with the wide-ranging implications of Agamben's radical and controversial interpretation of modern political life.The contributors analyze Agamben's thought from the perspectives of political theory, philosophy, jurisprudence, and the history of law.
They consider his work not only in relation to that of his major interlocutors-Hannah Arendt, Michel Foucault, Carl Schmitt, Walter Benjamin, and Martin Heidegger-but also in relation to the thought of Plato, Pindar, Heraclitus, Descartes, Kafka, Bataille, and Derrida.
The essayists' approaches are varied, as are their ultimate evaluations of the cogency and accuracy of Agamben's arguments.
This volume also includes an original essay by Agamben in which he considers the relation of Benjamin's "Critique of Violence" to Schmitt's Political Theology.
Politics, Metaphysics, and Death is a necessary, multifaceted exposition and evaluation of the thought of one of today's most important political theorists. Contributors: Giorgio Agamben, Andrew Benjamin, Peter Fitzpatrick, Anselm Haverkamp, Paul Hegarty, Andreas Kalyvas, Rainer Maria Kiesow , Catherine Mills, Andrew Norris, Adam Thurschwell, Erik Vogt, Thomas Carl Wall
Information
Format: Hardback
Pages: 320 pages
Publisher: Duke University Press
Publication Date: 11/07/2005
Category: Literary studies: general
ISBN: 9780822335252
Free Home Delivery
on all orders
Pick up orders
from local bookshops