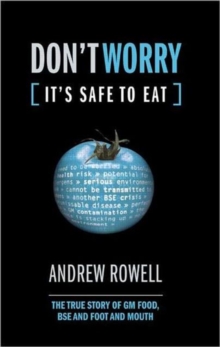 Don't Worry (It's Safe to Eat) : The True Story of GM Food, BSE and Foot and Mouth
Hardback
Description
An investigation of science, politics and our food production system, this text exposes the bogus science, political interference and flawed policies that threaten our food supply.
The author tells the story of BSE, revealing how top scientists have been muzzled and how the epidemic continues.
Then, against a backdrop of burning cows, Andrew Rowell exposes how trade and macro-economic policies overruled good science in the foot and mouth catastrophe.
He also opens the black box of the so-called GM revolution to expose the myth behind the marketing.
In tracing how critics are silenced in the bottom-line climate of commercialized science and privatized knowledge, Rowell tells the true story of the widely publicized Pusztai GM potato scandal of the late 1990s and the ongoing Mexican maize GM contamination affair.
Finally, the book offers radical solutions to make science work in the public interest and provide food that really is safe to eat.
Other Formats
EPUB from £30.55
PDF from £30.55
Free Home Delivery
on all orders
Pick up orders
from local bookshops