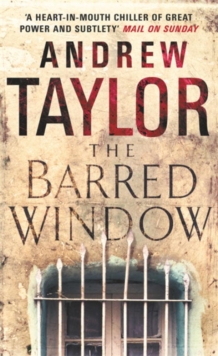 The Barred Window
Paperback
Description
48 years in the same house, in the same room, with the same barred windowsThe Barred Windows is a psychological thriller packed with twists and turns from the bestselling author of The Ashes of LondonIt is 1993 and Thomas Penmarsh has lived in Finisterre, the house by the sea, all his life, sleeping each night in the room with the barred window.
He's only 48 but has been an old man since one evening in 1967 when he lost everything he valued.With the death of his controlling mother, Thomas finally becomes master of his own house.
When Esmond, his cousin and childhood confidante, comes to live with him Thomas is overjoyed - Esmond always looks after him . . .But is Esmond all that he seems? And why is he so concerned that Alice wants to come home too?
Darling Alice, whom neither have seen since that fateful night twenty-six years ago.
Information
Format: Paperback
Pages: 416 pages
Publisher: Penguin Books Ltd
Publication Date: 29/03/2007
Category: Crime & mystery
ISBN: 9780141027661
Free Home Delivery
on all orders
Pick up orders
from local bookshops
Reviews
Showing 1 - 3 of 3 reviews.
Review by smik
16/06/2015
I listened to this as a download from Audible.comAccording to Fantastic Fiction it was published in 1993, the same year in which the book is set.Quite a long book, and I spent much of the time wondering if it was actually crime fiction, although in my heart of hearts I knew it was.You know, for example, that nasty things have happened in Finisterre, the house Thomas inherited from his mother. People have died, including his father, his baby cousin Lizzie, and his wife Lillian. The room his father and Lizzie died in is referred to as the Death Room. It is not an accident either than Finisterre rhymes with Sinister.The tension mounted in the last hour or so of the book, and I really began to question who was telling the truth. The eventual truth is horrifying, but you are still left wondering about which version to believe.On his site Andrew Taylor says"THE RAVEN ON THE WATER and THE BARRED WINDOW both explore the relationship between now and then: as a writer I'm fascinated by the fact that if you want to understand the present, you have to go back to the past. Both novels use a double narrative technique, in which the distant past and the recent past unfold together until they converge in the present. Both deal with the long shadows cast by old crimes.THE BARRED WINDOW was widely reviewed as mainstream fiction. It is set in Cornwall and uses many of the conventions of the Gothic novel. One of its themes is the blurred dividing line which sometimes exists between predators and victims."
Review by jan.fleming
16/06/2015
"Is there a spell on this place?" I remember asking my mother. "Don't be so stupid, Thomas," she said. `Magic isn't real."
Thomas Penmarsh has always lived at Finisterre, the house by the sea. He sleeps in the room with the barred window and looks down on the cats in the garden. He is 48: but he has been an old man since one evening in 1967 when he lost everything he valued. Then Cousin Esmond came back and rescued him from despair and the cats; Esmond always looks after Thomas.
But now Alice wants to come home too. Alice will spoil it all if she returns, because she brings the past with her. From the moment of her conception, she has been a child of enchantment, madness and death.

Ohh I loved this...a lovely slow burning, suspenseful gothic novel with more than a touch of the Daphne du Mauriers. Beautifully written with a gripping plot and one of my favourite fiction devices; the possible unreliable narrator. Subtle, disturbing, beautifully paced with memorable characters and a story that creeps along with a whispering dread to the shocking denouement.

Fab!

Review by Ant.Harrison
16/06/2015
Another excellent read from the ever-dependable Andrew Taylor. Complex relationships in an isolated community, caught up in unresolved conflicts from childhood, make this a claustrophobic and unsettling read. Taylor is one of the best when it comes to effectively combining believable characters and a compelling plot. <br/><br/>I've said it before: Andrew Taylor is under-rated and he should be much better known than he is. Streets ahead of authors like Val McDermid and Henning Mankell, but mysteriously they are always in the spotlight, while Taylor is rarely mentioned. Try his stuff, you won't be disappointed. <br/><br/>© Koplowitz 2011<br/> <br/>