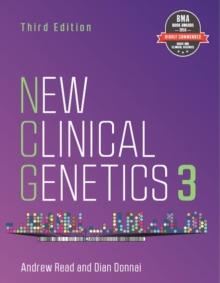 New Clinical Genetics, third edition
Paperback / softback
Description
HIGHLY COMMENDED IN THE 2016 BMA MEDICAL BOOK AWARDS!Instructors' comments on new, 3rd edition:"I LOVED the book. I've never seen anything like it,and I've reviewed a lot of genetics texts.
The way that cases are presentedthroughout is extremely novel.""I am greatly pleased with the revisions. In myopinion, there is an increased clarity in the text (which will serve studentswell), and many welcomed updates based on current literature.
Good job!""I LIKE IT A LOT!!""The book looks good and we will certainly be recommendingit for our medical genetics course this autumn.""This is a fantastic book that I enjoy so much teachingfrom.""I have been reviewing the book. I think it is a greatteaching tool since you can follow a case from beginning to end.""I have used this book every year since the first editionwas published and it is a perfect fit for my human genetics course. Iwill definitely continue to use it.""It's great. I will recommend the book as a main text forthe medical student class."In the few years sincethe previous edition technical progress, especially the widespread use ofwhole-genome technologies, has brought many advances in the understanding,diagnosis and treatment of genetic disease.
As a result, most chapters havebeen substantially rewritten and updated to reflect this.
The unique structureand format remains the same, but significant new material has been added tocover:the widespread use of next-generation sequencing as a routine diagnostic toolthe checking of a patient's whole exome for the cause of their problemnoninvasive prenatal diagnosis by next-generation sequencing of free fetal DNA in the maternal circulationa new integrated treatment of epigeneticsmosaicism, `RASopathies' and disorders of the spliceosome are described in new Disease boxesdysmorphology in more detailNew Clinical Genetics continues to offerthe most innovative case-based approach to modern genetics.
It is usedworldwide as a textbook for medical students, but also as an essential guide tothe field for genetic counselors, physician assistants, and clinical and nursegeneticists. Reviews of earlier editions:"This book provides awonderful case-based learning environment.
There are also self-assessmentquestions. Students are not given model answers but are provided with guidanceon how to work out the correct answers for themselves.
Excellent!"Human Genetics"This book is a very valuable tool that will beused by future geneticists all over Europe and beyond, both as a teachingmaterial and as a source of excellent knowledge."European Journal of HumanGenetics
Information
Format: Paperback / softback
Pages: 472 pages, 250 Illustrations, unspecified
Publisher: Scion Publishing Ltd
Publication Date: 08/06/2015
Category: Medical genetics
ISBN: 9781907904677
Free Home Delivery
on all orders
Pick up orders
from local bookshops