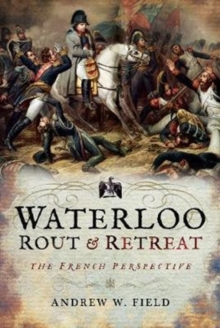 Waterloo: Rout and Retreat
Hardback
Description
This, the fourth volume in Andrew Field's highly praised study of the Waterloo campaign from the French perspective, depicts in vivid detail the often neglected final phase the rout and retreat of Napoleon's army.
The text is based exclusively on French eyewitness accounts which give an inside view of the immediate aftermath of the battle and carry the story through to the army's disbandment in late 1815\. Many French officers and soldiers wrote more about the retreat than they did about the catastrophe of Waterloo itself.
Their recollections give a fascinating insight to the psyche of the French soldier.
They also provide a first-hand record of their experiences and the range of their reactions, from those who deserted the colours and made their way home, to those who continued to serve faithfully when all was lost.
Napoleon s own flight from Waterloo is an essential part of the narrative, but the main emphasis is on the fate of the beaten French army as it was experienced by eyewitnesses who lived through the last days of the campaign.
Information
Format: Hardback
Pages: 348 pages, 10 illustrations
Publisher: Pen & Sword Books Ltd
Publication Date: 01/11/2017
Category: European history
ISBN: 9781526701718
Other Formats
EPUB from £13.50
PDF from £13.50
Also by Andrew W. Field