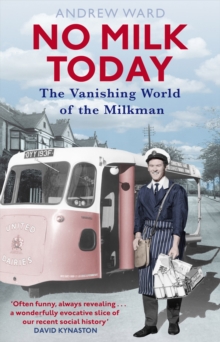 No Milk Today : The Vanishing World of the Milkman
Paperback / softback
Description
Traditionally, in British society, the milkman has been a family friend, a sex symbol and a cheerful chappie.
He has been the eyes and ears of the community, and his genetic legacy has supposedly passed into the lineage of housewives. This collection of folk tales about milkmen covers the history of the job and the milkman's everyday experience.
The book is structured by the milkman's working day.
It starts with the alarm-clock and ends with the milkman returning home in search of sustenance and tender loving care.
The book is less about changes in the dairy industry and more about the work experiences of the people who have delivered milk.
Many milkmen are featured: Chris Frankland delivered over eight million pints before he retired at seventy-four; Alistair Maclean drove two million miles across the north coast of Scotland in fifty years; and Tony Fowler, an award-winning Leicestershire milkman, helped to put over fifty people in prison. For more than thirty years the author has collected milkman stories through oral testimony, newspaper archives, anecdotes, diaries, books and more formal interviews. Praise for the author:Barnsley: A Study in Football, 1953-59 (with Ian Alister, Crowberry 1981)'A rare example of folk history . . . a work thankfully free of sick parrots, bulging nets and exclusive revelations.' (The Yorkshire Post)'riveting, dreamy, passionate, valuable and stuff of a past era which must not be forgotten . . . I read it in an all-night session.' (Frank Keating, Guardian)Cricket's Strangest Matches (Robson 1990)'Ward has an eye for the unusual and nicely dry style.' (Sunday Correspondent)Three Sides of the Mersey (with Rogan Taylor and John Williams, Robson, 1993)'. . . a labour of love. Built from copious interviews with players, club staff, and fans going back to the Twenties, it provides a permanent record of a 32-part series broadcast on Radio City last season.
It's a compendious portrait of Liverpool's passion for football, and an endearing social history along the way.' (Independent)Armed with a Football (Crowberry 1994)'A riveting read for the maverick fan' (Independent)Kicking and Screaming (with Rogan Taylor, Robson, 1995)'Borrowing the straightforward oral history technique favoured by Studs Terkel and Lynn MacDonald, the authors assemble the memories of players, managers and fans into a mosaic from which an affectionate portrait of the English game emerges, with all its faults and virtues.' (Guardian)The Day of the Hillsborough Disaster (with Rogan Taylor and Tim Newburn, Liverpool University Press, 1995)'In many ways Taylor, Ward and Newburn have produced one of the best oral histories ever produced.' (Oral History)'It is the most dignified and respectful of memorials to the dead, dedicated to those who must still struggle with the consequences of the disaster, and it never succombs to the morbid or maudlin.' (Observer)'It is the most extraordinary account of what happened . . . Their book is gripping and extremely moving. After such tragedy, this book is cathartic.' (FourFourTwo)I'm on Me Mobile (with Anton Rippon, 2000)'One of the best came at Gloucester magistrates court in January 1994, when the defendant's phone rang. 'Can't talk now,' he said. 'I'm in the dock.' (Guardian)'One of the things that was in it was a woman saying "hang on a minute, I'll just get out my handbook and look under womb".' (Amazon)Football Nation (with John Williams, Bloomsbury, 2009)'Based on a dazzling array of largely oral evidence and written with a deeply attractive mixture of authority and humanity, it offers a bewitching, kaleidoscopic, alternative history of our national game since the war . . . Football is so often its own worst enemy, but Ward and Williams will remind many jaundiced readers why they fell in love with it.' (History Today)The Birth Father's Tale (BAAF, 2012)'Very personal account of Ward's search for his son, more than thirty years after the machinery of adoption removed him from Ward's life.' (Therapy Today)
Information
Format: Paperback / softback
Pages: 304 pages
Publisher: Little, Brown Book Group
Publication Date: 20/10/2016
Category: General & world history
ISBN: 9781472138903
Other Formats
Paperback / softback from £7.89
EPUB from £3.99
Free Home Delivery
on all orders
Pick up orders
from local bookshops