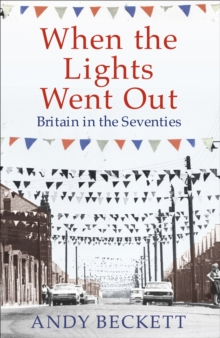 When the Lights Went Out : Britain in the Seventies
Hardback
Description
The seventies are probably the most important and fascinating period in modern British political history.
They encompass strikes that brought down governments, shock general election results, the rise of Margaret Thatcher and the fall of Edward Heath, the IMF crisis, the Winter of Discontent and the three-day week.
But the seventies have also been frequently misunderstood, oversimplified and misrepresented. "When the Lights Went Out" goes in search of what really happened, what it felt like at the time, and where it was all leading.
It includes vivid interviews with many of the leading participants, many of them now dead, from Heath to Jack Jones to Arthur Scargill, and it travels from the once-famous factories where the great industrial confrontations took place to the suburbs where Thatcherism was created and to remote North Sea oil rigs.
The book also unearths the stories of the forgotten political actors away from Westminster who gave the decade so much of its volatility and excitement, from the Gay Liberation Front to the hippie anarchists of the free festival movement. Over five years in the making, this book is not an academic history but something for the general reader, written with the vividness of a novel or the best works of American New Journalism, bringing the decade back to life in all its drama and complexity.
Information
Format: Hardback
Pages: 448 pages
Publisher: Faber & Faber
Publication Date: 07/05/2009
Category: Humamities
ISBN: 9780571221363
Other Formats
Paperback from £10.25
EPUB from £7.98
Free Home Delivery
on all orders
Pick up orders
from local bookshops
Reviews
Showing 1 - 3 of 3 reviews.
Review by LyzzyBee
16/06/2015
02 May 2009 - LibraryThing Early Reviewers programmeI was thrilled to win this in the Early Reviewers programme and delighted when a fully-polished, lovely hardback book arrived in the post. Having recently developed an interest in history, and read with glee the Andrew Marr post-war history, I was eager to see what I could learn about this recent decade.Like me, the author grew up in the 1970s and was keen to find out if it really was all disappointment, rubbish heaps and grey dinginess. Like me, he had a very blurred understanding of the political figures of the time. Unlike me, he's a journalist of some renown and, armed with a good strong nose for destroying myth (and some excellent contacts) he sets out to examine the time, both through original sources, books written at and about the time, including works of history, memoir and polemic, and then with modern day visits and interviews. This leads to a detailed and multifaceted book, which switches points of view and chronology often enough to remain interesting to the reader, while providing a good steady context and not confusing.The picture of trade unionism and its relation with government is particularly strong in the book, but it also covers the various movements (gay and women's lib, ecology, free festivals) that grew or strengthened in the decade, as well as giving a very detailed picture of the machinations of government. There is a short chapter on Marxism which was mocked by a national newspaper reviewer for being a) short and b) about Beckett's cousin, but it does fit in to the general context, with plenty of source material and a revolutionary interviewed in his later, less radical years. It helps, of course, that there are echoes of the seventies in today's crises - climate warnings, terrorist threats and stagflation. But this point is not laboured, and the book stands proudly on its own merits. Thatcher looms over the second part of it, and I would like to see Beckett tackle the Eighties next - I'm sure he would do a good job.
Review by gaskella
16/06/2015
The 1970s were my formative years. I was ten years old in 1970, so I was a Seventies teenager. My 1970s was full of being a teenybopper and my beloved David Cassidy, girl guides, then the youth club and the hard graft of O & A levels, culminating in going up to London University where I was old enough to use my vote. Even then, in the 1979 general election I voted for a woman first, not caring about the policies. All decade, I had scarcely had a single proper political thought in my brain. Politics to me had meant Mike Yarwood doing Harold Wilson impressions and getting a free badge supporting entry into the EEC.Andy Beckett's marvellous book remedies the situation for the decade bookended by Tory wins for Edward Heath in 1970 and Thatcher in 1979. It was a key period in modern British politics particularly seeing the rise and rise of the unions, a time of strikes and cuts, the three day week, culminating in the 'Winter of Discontent'. He has managed to secure interviews with many of the key people who were there, including Ted Heath before his death; you really get a feel for the personalities involved from the shop-floor up to the cabinet.There was one section in particular though which really resonated with our economic predicament today. In 1976 sterling plunged against the dollar in the currency markets. Jim Callaghan and his Chancellor Denis Healey were forced to ask the IMF for the biggest loan it had ever granted, and the talks got stuck. US Treasury Secretary William Simon flew in to assist. '...he wrote in his autobiography. 'Historically, the United States has always been there to assist its (often ungrateful) friends ... But there is a difference being a charitable benefactor and host to a parasite.'' Things weren't going too well, but they got the money. Later, it transpired that the Public Sector Borrowing Requirement (PSBR) during that period was actually £5.6 billion, not over £10 billion. Beckett asked Bernard Donaghue about it and he quoted a Treasury friend '... you can't manage the economy tightly over a long period. You only get a chance once every decade to get the economy under control. What you need is a crisis that frightens ministers into accepting [your ideas]. ... It's what we call the Treasury Bounce.' Beckett then asked Healey about it, who told a funny story about making up figures, which was why he had a distrust of statistics and all these 'wildly unreliable' figures. I leave you to draw your own parallels. There's no doubt that the 1970s were interesting years to live through, and this book is a masterly chronicle of it.
Review by varske
16/06/2015
I forgot I had won this from Library Thing and bought it anyway. I spend a lot of time in my job wondering when the lights will go out, so I was interested from that point of view as well. It's an excellent book for history as well. I haven't read anything else from the period (I'm not into biographies) and I was surprised how much I had forgotten and just didn't realise was happening at the time. He brings it all back, not only with interviews with politicians of the time, but also those lesser personalities who were swept to prominence at the time. All are asked to reflect on their activities then and reassess them now. As he puts it at the end of the book, the landscape now in the 21st century is so different that it really does feel like the history of a byegone age. Yet at the end of book he points out that Thatcherism was not so inevitable as it seems, though the book seems to be leading in that direction. I was struck now by the similarities with the changes in Eastern Europe as they struggled in the 90s with split governments and market economics, trade unions and growing consumerism.A brilliant picture sympathetically portrayed. I marked out lots of quotes, that I would like to blog about, but if I don't get this review done, I'll be blacklisted by LibraryThing, so that will have to wait till later.