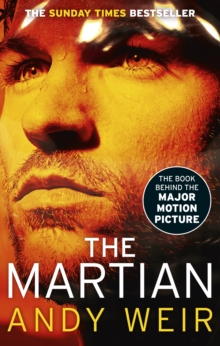 Description
The best-seller behind the major film from Ridley Scott, starring Matt Damon and Jessica Chastain.
I'm stranded on Mars. I have no way to communicate with Earth. I'm in a Habitat designed to last 31 days. If the Oxygenator breaks down, I'll suffocate. If the Water Reclaimer breaks down, I'll die of thirst.
If the Hab breaches, I'll just kind of explode. If none of those things happen, I'll eventually run out of food and starve to death.
So yeah. I'm screwed.
Information
Format: Paperback
Pages: 384 pages
Publisher: Ebury Publishing
Publication Date: 28/08/2014
Category: Science fiction
ISBN: 9780091956141
Other Formats
Paperback from £7.09
EPUB from £4.99
Free Home Delivery
on all orders
Pick up orders
from local bookshops
Reviews
Showing 1 - 5 of 11 reviews.
Previous | Next
Review by naturalbri
16/06/2015
What is 'The Martian' about?And you thought you'd never need those mathematical skills you learned in school. Mark is finding out the hard way, that a lot of 'useless' skills are what keep you alive, when you're stranded on Mars. Sure, he's the king of his own planet, a Hab castle all to himself and enough shit potatoes to last hims ages, but he wants nothing more than to get home. When a series of dreadful events leave his crew to make the choice between one life and many. They thought he was dead. How could Mark have survived the incident? There's no space for 'dead' weight in the MAV and they need to leave NOW. Time's ticking and lives are in danger. Waiting until the last possible moment, the crew head out of the Martian red and toward Hermes. Little did they know, face down in the gale force winds and red sand, their Ares 3 crewmate would take his next breath. From there on, he'd be avoiding making it his last. Each Sol is a new challenge, backbreaking work and utter aloneness. How on Earth does he cope? That's easy. He's not on Earth, oh, and he's got the best sense of humour and set of problem solving skills of the Ares 3 lot. He knows he can't focus on his chances of survival, the fact that he'll likely never see anyone (not a single living being) or the trials that lie ahead of him. At least he's got a trusty journal, 70s music (he hates) and Telly shows (that kill him). Well, it could be worse. Being the only one, and the first one to stay, on a desolate planet does have its perks. No need to shower, shave or look good ( not that NASA gave him the tech so he could if he wanted). Ah, so you like that crater and want to name it after yourself? How about naming your own missions/outings? Sure, you are the self-proclaimed King of Mars.However, life is not all fun and games for Mark. To be honest, he doesn't have any games and surely no fun, unless you count endless rubbish telly shows and books or talking/writing to yourself, knowing that no one will likely ever read what you say. Oh yes, and there are the tasks at hand, normally steaped to kill you, highly unlikely to succeed and deadly, but you do them anyhow because you need to get off this god-forsaken planet. All this and more are tackled by Mark, as he journies across and through the abyss, ever hoping, working toward his only goal. Will his scientific, problem-solving endless upbeat mind help him see it through? Will Mark ever see Earth again?Read and find out :)OVERALL: I could not put this book down. Yes, there are a lot of mathematical andtheoretical workings/descriptions in the book. A lot have played this as the worst part of the book, or Mark's dry character with a rather brash way of looking at things (stay upbeat, think logically through everything, get the hell out alive). I love these aspects of the book. I feel that they make the character, setting and storyline more real. Being of a scientific mind and background myself, I felt I connected with Mark's character. I also thought his processes were not only needed, but real. If you freak, you fail. May as well think everything through, not fail, get out alive. Hey, you've got the time. If you are a fan of Michael Crichton, Isaac Asimov and/or Orson Scott Card, this book is a fantastic blend of these amazing authors (I personally love all three). You have the scientific based suspense (with the details and research to make it feel real) as Crichton, the Sci-fi base and intricate detail of Asimov and, finally, the story weaving brilliance of Card. This book is not one to be passed up. It really grabs hold of your inner trill seeker and scfi-fi lover. You delve into a life, a problem, that could possibly happen. Something that is brilliantly horrifying, yet pulls you in, making you wonder...what if it were me?
Review by AlanPoulter
16/06/2015
I am not with the majority who think this a wonderful science fiction novel. Back in 50s science fiction authors used to casually planet hop by rocket ship. While the author here does a masterful job of setting up one problem after another, couched in realisitic terms, this is all still as it was in the 50s - can do will conquer all, there is no such thing as as failure.Life is not like that. Things go wrong. Will there ever be a Mars mission, let alone a succesful one? Does the do-it-all nerdy hero of this book really exist? This novel is a piece of escapism, which pushes all the right generic buttons, but sadly does nothing more.
Review by rlangston
16/06/2015
Good quick read, but I was for some reason expecting something deeper and more literary
Review by iansales
16/06/2015
This is an odd one. The book has been hugely successful, so much so Ridley Scott is apparently making a film of it. Yet most of the praise for the book I've seen has been outside fandom. Is this because the book was originally self-published, and did so well on Kindle it was then picked up by a major imprint? Or is it that hard science fiction has fallen out of favour with genre fandom? Actually, I think it's neither, but rather the fact that a) The Martian is a resolutely commercial book, and in style and approach has more in common with technothrillers than it does science fiction novels, b) it is completely hollow, there's no meaty idea for a sf reader to get their teeth into, and c) it's actually not very good, just pages and pages of a very irritating narrator explaining how he managed to survive on Mars after accidentally being left behind. It's basically "Home Alone on the Red Planet", with the planet itself playing the part of the inept burglars. (Sticking Val Kilmer, or his lookalike, on the cover, probably didn't harm its chances either.) The original self-published novel has been padded out with scenes set at NASA, as they learn the narrator, Mark Watney, is still alive and then set about putting together a rescue plan. But the characterisation is paper-thin and everyone sounds pretty much the same. Watney's various predicaments are interesting, and some of his solutions are mildly clever – but Weir throws so much bad luck at him, it soon beggars belief. We also get little real idea of what it would be like to be on the surface of Mars. A handful of mentions of the 0.4G, no mention at all of the surface radiation, but lots about the cold. Lots. It was also my understanding that at such low atmospheric pressures, gale-force winds would actually cause very little damage. The Martian could have taken place pretty much anywhere, even the Antarctic, and very little would need to change (well, the technology would have to be dialled down a little). I'm completely mystified by all the praise this book has been receiving. We might as well claim Clive Cussler's latest sweatshop effort is one of the best sf novels of the year…
Review by imyril
16/06/2015
This is one of those books I'm going to be grateful to for being popular, without having got the same thrill from it myself. It's awesome that a geeky book about a bloke bodging his way across Mars has turned into a massive bestseller - I'm all for stimulating public interest in science and space travel. Sadly, I didn't enjoy Mark's sense of humour and I eventually got bored with the technical hacking, but there was just enough human interest to keep me engaged to find out if he lived or died. But yay! for books that get non-scifi readers interested in science and space.