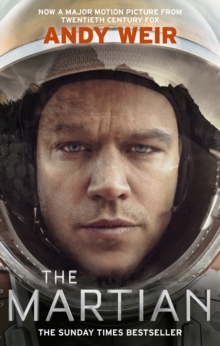 Description
The Sunday Times Bestseller behind the major new film from Ridley Scott starring Matt Damon and Jessica Chastain. I'm stranded on Mars. I have no way to communicate with Earth. I'm in a Habitat designed to last 31 days. If the Oxygenator breaks down, I'll suffocate. If the Water Reclaimer breaks down, I'll die of thirst.
If the Hab breaches, I'll just kind of explode. If none of those things happen, I'll eventually run out of food and starve to death. So yeah. I'm screwed. Andy Weir's second novel Artemis is now available for pre-order
Information
Format: Paperback
Pages: 384 pages
Publisher: Ebury Publishing
Publication Date: 27/08/2015
Category: Science fiction
ISBN: 9781785031137
Other Formats
Paperback from £7.09
EPUB from £4.99
Free Home Delivery
on all orders
Pick up orders
from local bookshops
Reviews
Showing 1 - 2 of 2 reviews.
Review by arielfl
27/01/2016
I feel late the The Martian Party. I don't gravitate towards Science Fiction but a good story is a good story and that's what this is. When we first meet Mark Watney he is stranded on Mars in an impossible situation. From there on out things go down hill. For every small victory at the end of a chapter the next chapter inevitably begins with an oh crap, I'm going to die. Interspersed with Mark's harrowing adventures on Mars are chapters about the ground crew back on earth fighting to save his life. Included is a lot of science stuff that was interesting to read about but for the most part I had little hope of understanding. The author of this book must have done a ton research. The best part of the book for me was the character of Mark Watney and his wise cracks which propelled the story through even the dullest of chemistry tutorials. I haven't seen the movie but I enjoyed the book way more than I ever thought I would have.
Review by lisa.isselee
27/01/2016
5 stars all the way ! <br/>There are no words enough to say how much I loved this book. <br/>It's incredibly funny, I can't remember the time a book made my chuckle out loud like this one did. <br/>I felt like this book was more "realistic" than any of the other space travel books I've read. Mainly because it didn't have a catastrophic event that was followed a miraculous rescue. He worked hard for his survival and for his rescue and that was well executed.<br/><br/>Even the science talk was approachable, especially when the main character makes fun of it all. <br/><br/>It was a fantastic read ! I would definitly reccommend it to every single person on this planet ( que lame mars joke ... !)