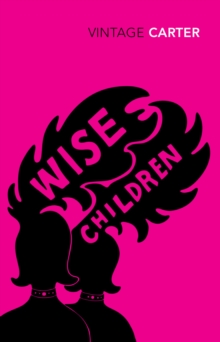 Description
This title is presented with an introduction by Ali Smith.
A richly comic tale of the tangled fortunes of two theatrical families, the Hazards and the Chances, Angela Carter's witty and bawdy novel is populated with as many sets of twins, and mistaken identities as any Shakespeare comedy, and celebrates the magic of over a century of show business.
Information
Format: Paperback
Pages: 240 pages
Publisher: Vintage Publishing
Publication Date: 02/06/1992
ISBN: 9780099981107
Other Formats
Paperback from £6.39
EPUB from £4.99
Free Home Delivery
on all orders
Pick up orders
from local bookshops
Reviews
Showing 1 - 5 of 5 reviews.
Review by LizzieG
16/06/2015
Wise Children was written by Angela Carter in 1991, the last of her nine novels, published before her death in 1992. The story is a complex tale – set on the day of identical twins Dora (the narrator) and Nora Chance's 75th birthday, it is a memoir of their personal lives as illegitimate twin daughters of Sir Melchior Hazard, a British theatrical legend, and their professional lives as vaudeville 'hoofers' – the Lucky Chances. All of the vignettes recollected by Dora lead towards the dénouement set at their father's centennial party.Central to the theme of the book – emphasised by the choice of quotations used at the outset of the novel – is the relationship between mothers and daughters ("Father is a hypothesis but mother is a fact"), and there is a very matriarchal slant to the story. This is very in keeping with Carter's other works, which emphasise the power held by women in determining their own destinies.At times the thread of the narrative is difficult to follow – the timeline jumps around incessantly and there is (fittingly for a novel about theatric types) a large cast of supporting characters – but Carter's clever use of language to describe situations and events and her talent in bringing the principals to life make this a joy to read. Wise Children requires one to suspend belief at times due to its use of magical realism, but if you can get to grips with the multiple pairs of twins, the numerous illegitimacies and the constant Shakespearian motif, then the highs and lows in the book will really tug at your heart strings. There's also plenty of bawdy humour to keep the pace up.
Review by Nandakishore_Varma
16/06/2015
I love Angela Carter's prose: the sentences dance together, perfectly matched, creating a sinuous harmony of prose that's almost poetry. <i>Wise Children</i> is no different. In telling the story of the Misses Dora and Leonora Chance, the "Chance Sisters" whose rhythmically clicking heels have lighted up many a music hall stage, Ms. Carter has not spared any expense, choosing to spread the paint in loud, garish brushstrokes. For are they not the twin daughters (albeit born on the other side of the blanket) of the great Shakespearean actor Melchior Hazard?<br/><br/>Dora tells the story-and does it in such a bawdy style reminiscent of the music hall that you get carried away. It is a wildly improbable story, full of clandestine affairs, terrible disasters and great revelations-yet somehow unreal, as though we are watching a burlesque play. The girls are bastards of the great Melchior, born during the first world war, abandoned by their mother and brought up by Grandma Chance and their father's twin brother Peregrine. Even though their father do not accept them publicly, their story is always entwined with the story of the Hazard family, as Melchior moves from the drama stage to Hollywood and back again, picking up three and discarding two wives in the process. He has twin daughters from his first wife and twin sons from his third, and they all interact in wildly improbable ways throughout this kaleidoscopic novel.<br/><br/>It would not make any sense to describe the plot, so I will not attempt it-even if I were able to do so! Suffice it to say that there are artifices and deceptions aplenty, and nothing is what it seems to be...rather like a Shakespear play... In fact, the spirit of the great bard, especially the bawdiness of his comedies, is present throughout the narrative. This novel could be Angela Carter's tribute to him. Also, the vulgar light of the music hall makes itself felt on each page.<br/><br/>This is show business, and after some time, we start asking ourselves: is anything for real? As Nora asks Dora towards the end-does their father really exist? Or is he a pasteboard creation of their imaginations?<br/><br/>The other persistent theme is that of twins. One active, one passive: one quiet, one sprightly: one good, one evil... Even the city of London, split by the river into "twins": the North, respectable and the South, vulgar. Diametrical opposites permanently linked together. The novel aptly ends with the arrival of a new set of twins.<br/><br/><i>The question then arises: for such a many-layered story, why only three stars? Well...the book had a bit too much of vulgarity in it for me. Maybe Ms. Carter did it on purpose, but the constant references to semen (especially on one occasion, the presence of it on a young man's moustache after he has oral sex with another man) put me off. Also the numerous instances of incest didn't help. But I confess it is entirely a matter of personal taste.</i><br/><br/>So the verdict: a well-written, fast-paced literary novel, but perhaps not everybody's cup of tea.<br/><br/>
Review by yooperprof
27/08/2015
Oh, so that's why I haven't read Angela Carter before now.Definitely not my cuppa. I know a lot of people love Carter's plotting and her style, but I thought this was terribly tedious - trying much too hard to be funny. Different likes for different types, indeed.
Review by bodachliath
16/06/2015
Everything Angela Carter wrote was interesting, but for me, this last novel was her best. Full of humour and imagination, this Gothic theatrical tale is a book I must read again some day.
Review by Bagpuss
02/03/2016
I think if I knew what I know about Shakespeare now when I read it, I might have got even more out of it. A great novel about twins and legitimacy.