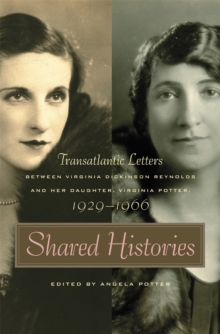 Shared Histories : Transatlantic Letters Between Virginia Dickinson Reynolds and Her Daughter, Virginia Potter, 1929-1966
Paperback / softback
Description
A mother writes to her faraway daughter: 'I keep all your letters.
Someday you might want to do something with them.' Those words foretold ""Shared Histories"", although neither woman would live to see the book.
This is the first known published collection of letters to include correspondence between civilian family members on both sides of the Atlantic during World War II.
Separated for most of their adult lives, Virginia Dickinson Reynolds and her daughter, Virginia Potter, wrote to each other for nearly forty years.
This selection from their long exchange is filled with unguarded reflections on current events, fashion, food, travel, domestic life, leisure, and the upheaval of war.
Readers will also encounter various prominent English people and members of the aristocracy, the American southern elite, and such familiar names as Martha Graham, Walt Disney, and Ellen Glasgow.
Both women were born in Richmond, Virginia, and raised in privileged circumstances.
Virginia Dickinson Reynolds was the child of a Confederate Army officer and was also a distant cousin of poet Emily Dickinson.
Virginia Potter traveled widely until she married an English Army officer and settled in his country.
The women's intensely close bond shines through ""Shared Histories"" as, from time to time, do their class-conscious, Anglo-Saxon sensibilities.
Sometimes poignant, sometimes bristling, always candid, these letters portray private worlds of tradition confronted with global change.
Information
Format: Paperback / softback
Pages: 412 pages, 26 b&w photos, 4 genealogical charts
Publisher: University of Georgia Press
Publication Date: 15/06/2006
Category: Autobiography: general
ISBN: 9780820328027
Also in the Publications of the Southern Texts Society series | View all