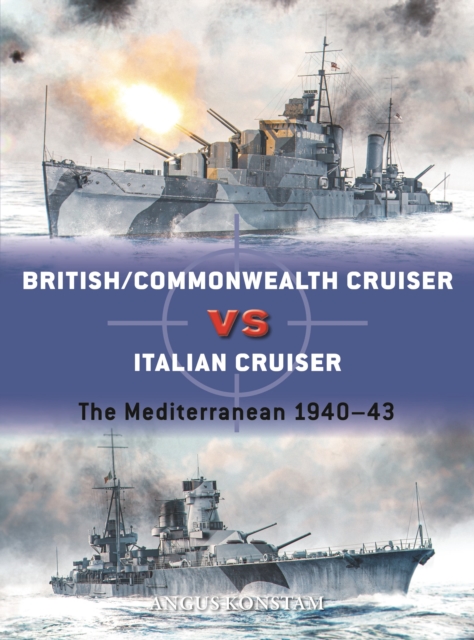 British/Commonwealth Cruiser vs Italian Cruiser : The Mediterranean 1940-43
Paperback / softback
Part of the Duel series
Description
This illustrated history explores the cruiser forces of the Italian and British Royal navies, the jack-of-all trades warships of the Mediterranean Naval War. In 1940, when Italy entered World War II, the Royal Navy was badly overstretched, and its Mediterranean Fleet had to face both the Italian Navy and the German and Italian Air Forces in a battle for supremacy.
Although the British and Italian battle fleets squared off against each other, they were both often held in reserve, in case the enemy fleet put to sea.
So, it was left to the cruisers to wage their own naval war in the Mediterranean.
This involved a range of missions, from escorting convoys and hunting enemy ones, to fighting for control of the sea around key locations such as the waters off Malta and Crete.
This superbly illustrated study, written by renowned naval expert Angus Konstam, compares and contrasts the design, weapon technologies and combat performance of the opposing cruiser forces.
It also documents several major clashes between British, Commonwealth and Italian cruisers, including spirited actions fought off Cape Spada in 1940, a string of actions in the Gulf of Sirte throughout 1941, battles against Axis convoys in 1941-42, and the Battle of Pantelleria in 1942.
Among the subjects of the specially commissioned colour artworks are HMAS Sydney, HMS Naiad, RM Trento and RM Raimondo Montecuccoli.
Information
Format:Paperback / softback
Pages:80 pages, Colour illustrations throughout, including profiles, technical drawings, battlescene artwo
Publisher:Bloomsbury Publishing PLC
Publication Date:15/09/2022
Category:
ISBN:9781472849687
Information
Format:Paperback / softback
Pages:80 pages, Colour illustrations throughout, including profiles, technical drawings, battlescene artwo
Publisher:Bloomsbury Publishing PLC
Publication Date:15/09/2022
Category:
ISBN:9781472849687