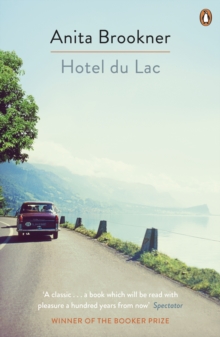 Description
Winner of the Booker Prize'The Hotel du Lac was a dignified building, a house of repute, a traditional establishment, used to welcoming the prudent, the well-to-do, the retired, the self-effacing, the respected patrons of an earlier era'Into the rarefied atmosphere of the Hotel du Lac timidly walks Edith Hope, romantic novelist and holder of modest dreams.
Edith has been exiled from home after embarrassing herself and her friends.
She has refused to sacrifice her ideals and remains stubbornly single.
But among the pampered women and minor nobility Edith finds Mr Neville, and her chance to escape from a life of humiliating loneliness is renewed . . . 'A classic . . . a book which will be read with pleasure a hundred years from now' Spectator
Information
Format: Paperback
Pages: 192 pages
Publisher: Penguin Books Ltd
Publication Date: 01/02/1994
ISBN: 9780140147476
Free Home Delivery
on all orders
Pick up orders
from local bookshops
Reviews
Showing 1 - 5 of 5 reviews.
Review by Clurb
16/06/2015
I was overwhelmed by the timeless nature of Brookner's writing and particularly entertained by the various larger than life female characters resident within the hotel, but to truly understand the depth of emotion and tragi-comedy apparent within the story, this book deserves at least two reads.
Review by NeilDalley
16/06/2015
This book is quite a masterpiece. With a deft, succinct style a very clever and entertaining story has been created by Anita Brookner. She manages to transport you to the hotel without great pages of description and she manages to get inside the head of her protagonist without endlessly dissecting her emotions. I really felt loathing for the two loathsome characters in the form of Mrs and Miss Pusey. With all of this it is an entertaining and at times amusing story. I was going to give it four stars but I've changed my mind it must be five.
Review by LynnB
16/06/2015
This is a wonderful little book about a single woman, Edith Hope, who is sent by friends to an out-of-the-way hotel in Switzerland after she causes a minor scandal. Edith is a wonderful character: a novelist (under an assumed name), single with a married lover, somehow both very comfortable in her own skin and insecure at the same time. As she comes to know fellow guests at Hotel du Lac, we come to know her better.This book is well written in a style that will lend itself to re-reading every few years. I suspect my perspective on Edith will evolve as my life evolves.
Review by Mercury57
16/06/2015
" I am not a fascinating woman," reflects Edith Hope as she sits in an out-of-season Swiss hotel trying to decide how she should make her way through life. But there is something about this quiet, plain woman who wears comfy cardigans and prefers the quietude of her garden to drinks parties and social gatherings, that makes her fellow guests gravitate towards her.Perhaps it's because, like her, they are all adrift; washed up at a lakeside hotel that provides solace to those in need by sticking stolidly to its traditions.Edith is a romantic novelist who's been exiled to the hotel after an indiscretion that outraged her friends. The other guests include the beautiful Monica; a young woman with an eating disorder who's been sent to the hotel by her husband along with an ultimatum — sort herself out and produce a son and heir otherwise she'll be history. Then there's Madame de Bonnueil, an elderly widow who is despatched to the hotel every summer by a daughter in law who considers her a nuisance. And finally the overbearing, self-indulgent Mrs Pusey and her curiously clinging daughter who spend their lives flitting around the shopping capitals of the world in pursuit of exquisite hand embroidered lingerie thanks to the generosity of the long-dead but not lamented Mr Pusey.They confide in Edith and use her as a fresh audience for anecdotes told repeatedly to anyone who will listen. Edith observes them all, as she drifts around the hotel and its environs, trying but failing to write her newest novel and all the while writing to the mysterious 'David'. Brookner teases her readers with suggestions that a secret affair with this married man was the 'unfortunate lapse' that landed Edith in Switzerland. It's not until the last few chapters that we learn the truth.This is a novel that's written in a clean and unadorned form of prose which yet manages to captures the atmosphere of this retreat and the foibles of its guests. Nothing much happens for most of the book. Only the arrival of the single, wealthy businessman Mr Neville disturbs the Edith's routine of solitary walks along the lake shake, much partaking of cake in the one and only cafe in town, and then dinner in the hotel.Mr Neville succeeds in penetrating Edith's facade, challenging her presumption that her only options for the future are spinsterhood or a marriage based on the romantic ideal of love that feature in her novels. What he offers her is a third way. He needs the kind of wife who will never cause a scandal and take great of his home and especially his collection of famille rose dishes. In return she will gain a recognised social position giving her the freedom to behave as she wishes, protected from castigation and recrimination."You will find that you can behave as badly as you like. As badly as everybody else like too. ….And you will be respected for it. People will at last feel comfortable with you," he tells her.As the basis of a relationship, it sounds more like a business transaction than a declaration of affection. Whether it's one that Edith decides to buy into is something I'm not going to reveal. At the heart of the decision however is an interesting question about the way society views single women of a certain age and whether they can only achieve social acceptance by virtue of marriage.The book isn't long enough to do full justice to this theme unfortunately, nor is the resolution of Edith's dilemma fully convincing. Are these flaws sufficient grounds for the vocal criticism which greeted the announcement that Hotel du Lac was the winner of the Booker Prize for 1984? Malcolm Bradbury called the novel "parochial", and absolutely not the sort of book that should have won the prize while The New Statesman called Brookner's novel "pretentious". Both seem unfair criticism – while Hotel du Lac doesn't have the same depth as winners by Michael Ondaatje or Thomas Keneally or the scale of Salman Rushdie's Midnight's Children, but it's still a well written novel that poses challenging questions and holds the attention long after the pages are closed.
Review by AlisonY
27/08/2015
Such was the stunning imagery of the Swiss lakes in this novel, I feel like I've just been on a 2 day mini-break.This short novel (a Booker winner in the 1980s) centres on the character of Edith Hope, a moderately successful romantic novelist who has been banished to a hotel by a Swiss lake at the end of season until an embarrassment at home blows over. The story that unfolds is predominantly that of her observances and relations with the 5 other main guests, and her introspection of the disappointing life of spinsterhood that awaits when she returns home. I found this to be a wonderful book - beautifully written, with evocative descriptions of the old-fashioned hotel and lake, and amusing and memorable characters. There is an air of melancholy to the story, but it's peppered with enough dry humour to make it a warm and poignant observation. As the main character is a writer, her observance of the lives of the other female guests is sharp and insightful, and I felt that Brookner brought the book to a great conclusion.This is another of those quiet books that is all about human relationships rather than explosive plot, but it is fantastically executed. Written in a style reminiscent of the best classic novels, to quote from the Observer on the front of the book jacket "A classic... a book which will be read with pleasure a hundred years from now".