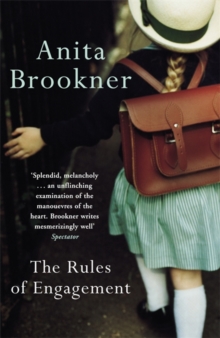 The Rules of Engagement
Paperback
Description
The Rules of Engagement is the twenty second novel by Anita Brookner, the Booker Prize winning author of Hotel du Lac.Elizabeth and Betsy are old school friends.
Born in 1948 and unready for the sixties, they had high hopes of the lives they would lead, even though their circumstances were so different.When they meet again in their thirties, Elizabeth, married to the safe, older Digby is relieving the boredom of a cosy but childless marriage with an affair.
Betsy seems to have found real romance in Paris. Are their lives taking off, or are they just making more of the wrong choices without even realising it?'One of the most observant moralists writing today.
A dark, wintry work and there is plenty here to satisfy Brookner's fans' Guardian'Her technique as a novelist is so sure and so quietly commanding' Hilary Mantel, Guardian'She is one of the great writers of contemporary fiction' Literary ReviewAnita Brookner was born in south London in 1928, the daughter of a Polish immigrant family.
She trained as an art historian, and worked at the Courtauld Institute of Art until her retirement in 1988.
She published her first novel, A Start in Life, in 1981 and her twenty-fourth, Strangers, in 2009.
Hotel du Lac won the 1984 Booker Prize. As well as fiction, Anita Brookner has published a number of volumes of art criticism.
Information
Format: Paperback
Pages: 256 pages
Publisher: Penguin Books Ltd
Publication Date: 01/07/2004
ISBN: 9780141014128
Free Home Delivery
on all orders
Pick up orders
from local bookshops
Reviews
Showing 1 - 1 of 1 reviews.
Review by gaskella
16/06/2015
This, her 22nd novel published in 2003, is typical Brookner with all her trademark features. The story is about two women who meet at school but stay in touch throughout their lives. Two girls, both called Elizabeth meet at school. They're both only children, Elizabeth's parents divorced, Betsy's died and she then lived with her aunt. Betsy is the pretty one, and when they both spend some time in Paris, it's Betsy that falls passionately in love; Elizabeth uses her time there coming to terms with being on her own.Later back in England, Elizabeth marries Digby, a widower many years her senior. Theirs is a comfortable marriage – no surprises, no passion, no children either. Elizabeth is happy with this, but then she embarks on an affair with one of Digby's friends – this relationship is one of convenience, physical needs are satisfied, but Elizabeth gradually begins to fall for Edmund. Then Betsy comes back into her life, and things are gradually turned upside down – and Betsy's life will continue to impact on her oldest friend's for years to come.If you didn't know the book I was describing was by Brookner, from the description above, you might guess it was by Joanna Trollope say with some complicated entanglements amongst the middle classes. But it's not. Through the voice of Elizabeth, Brookner tells the story of an ordinary woman disappointed with life and love, ultimately content with her own company, but somehow deep down wishing she'd had the wide-eyed innocence of her friend to take her down another path. Elizabeth meditates at length on her life, relationships and friendships, decisions taken, and things not done to keep life unruffled.This is where I had a problem with this book. In reality nothing much does happen – at least not to Elizabeth. It all happens to Betsy, but Elizabeth is telling the story, so we don't know the half of it. Instead, we're subjected to Elizabeth's introspection about life, the universe and everything. Characters' actions were described in intricate detail in this book, however I felt I never really got under Elizabeth's skin, despite having over 250 pages to get to know her. I wish I'd been able to write more enthusiastically about this novel, for I have enjoyed the others I have read, but I feel that The Rules of Engagement is one for Brookner completists, first time readers should probably start elsewhere.