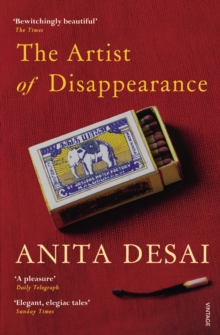 The Artist of Disappearance
Paperback
Description
A triptych of beautifully crafted novellas make up Anita Desai's exquisite new book.
Set in modern India, but where history still casts a long shadow, the stories move beyond the cities to places still haunted by the past, and to characters who are, each in their own way, masters of self-effacement.
Rich and evocative, remarkable in their clarity and sensuous in their telling, these stories remind us of the extraordinary yet delicate power of this pre-eminent writer.
Information
Format: Paperback
Pages: 176 pages
Publisher: Vintage Publishing
Publication Date: 01/08/2012
ISBN: 9780099553953
Free Home Delivery
on all orders
Pick up orders
from local bookshops
Reviews
Showing 1 - 2 of 2 reviews.
Review by pollyfrontier
16/06/2015
A mesmerizing story teller, Desai sets scenes and steeps one into the mood of her tale with wonderfully written descriptions.1. The Museum of Final Journeys A well-educated man cannot bare to spend his life with his mother on their remote estate. He travels continuously and sends precious artifacts back to her--so many they fill room after room of their mansion, veritably turning it into a museum. After the mother dies, the estate falls into disrepair, yet her aged retainer stays on. Years later, he undertakes a difficult journey to tell the district judge of all this, in hopes the state will take over the museum. Reluctantly, the judge travels out to view the contents, and is so overwhelmed by chamber after chamber of riches, he writes this story. In the last chamber, he had discovered an elephant living with the attendance of an old man in rags. "--the last gift Sri Jiban sent his mother." If the elephant lived any longer the retainer would have to begin dismantling the museum. He pleaded with the judge to appeal on their behalf. At a loss, so overwhelmed, the judge mumbled that he would let him know . . . Soon after, he was transferred to the capital. He was disturbed by the memory of the elephant. Then in time, the memory fades; he isn't sure if that museum and the elephant weren't a dream. So moving, I nearly cried.2. Translator Translated At a school reunion, unsociable English teacher Prema runs into Tara, who had been the most popular girl in her class, and is surprised to be recognized. Tara now runs a small publishing firm, about to launch into books written in India's native languages. Prema's favorite book lies in her purse, dog-eared and stained. It is written in Oriya, her childhood language, and she shows it to Tara, who is interested and asks Prema to send her a synopsis and sample translation. Prema goes right to it, so happy in the work she even becomes nicer to her students. The book is published to some acclaim, Tara and Prema recognized in India's world of publishing. At long last Prema gets to meet the aged woman who wrote this book, who hasn't written anything since. Prema encourages her to write another book. But the multitude of adjectives and the verbosity of the forthcoming book inspire her to edit as she translates--no one would know the difference. Unaware it is inauthentic, Tara publishes the book. When it comes out, to more acclaim for Tara and Prema, the author's nephew sees the changes and strenuously objects to the "cavalier attitude." Tara sends him and his town's newspaper a letter of apology. Evidently he never told his aunt, as she writes Prema a thank you note. "Tara did not withdraw the book, nor did she ever order a reprint. The Association of Indian Publishers sent Prema, c/o Tara, an invitation to its next gathering of authors and translators. Prema declined, pleading illness." Prema goes on teaching, aware her students are bored with her. She gets the idea she could write her own book. But some parts come better expressed in Oriya, others in English, and she gives up. Running into the nephew and his little boy in a bookshop one day, she asks of his family: he cheerily brings her up to date, then is distracted by the boy, and she flees.3. The Artist of Disappearance tells of Rivi, neglected as a child by his vacationing, partying parents, who kept to himself at school and became a recluse on his vacated family estate in the hills, serviced by the farm family who live just down a ways. Rivi has let the old woman who had tutored him, now blind and devoted to her cats, stay on. Each keeps to himself in this big old house, till she knocks over a lantern and sets fire to the place. When Rivi has reluctantly faced the public in order to visit his old tutor in her hospital ward, understandingly, she tells him he needn't stay, to go home. Rivi moves into one barely habitable room that has survived the fire. His days are spent out wandering: in time, he comes across a glen barricaded by a huge stone. He slips through a crevice, and begins to arrange branches and various flora in this hidden place, and comes every day, as if to a shrine. A TV film crew seeking to document the prevailing quarries' and mines' massacre of outlying areas suffers greasy food and a country hotel's fleas, searching out graphic sites. The crew's new assistant, a young girl who had complained of the discomforts, is sent down a path on her own and comes across Rivi's "garden," she calls it, when she tells the crew, claiming it would make a perfect, hopeful ending to their sad program. News of the film crew's search for the designer of this garden moves Rivi's farmer to put him in old clothes and take him into his home, offering a loft by itself where Rivi can sleep. The crew views its film is disappointment: without being present, the garden looks dead. Leaving that area, they come across huge explosions from a limestone mine, billowing white dust. "That is what we need for a finish!" cries the boss ecstatically. I had to look back to the endings of these stories--after holding one in a different world, they become lost in time.
Review by DieFledermaus
27/08/2015
These novellas by Anita Desai are written in a crystalline, engaging style, which kept me reading even in parts about characters just going about their daily lives or a less interesting detour in the final piece. Because of this, I'll definitely seek out more of Desai's work. The first novella is about a bored government worker stuck in a provincial post who visits a dilapidated estate full of exotic curios. The second follows an unhappy woman whose life becomes more exciting as she reconnects with an old schoolmate and works for her as a translator. In the final piece, an isolated man with an unfortunate history collides with the modern world. Desai's writing immediately pulled me into "The Museum of Final Journeys", the first story. Even though the first part describes the narrator's discomfort with his new place and position and the boring routines of his office, it is somehow compelling. The main plot is involving and somewhat quixotic, even if the whole story is only an odd and discomfiting reminiscence of the now older narrator. The next story "Translator Translated" also has a wonderful opening hook, as the main character, Prema, a mediocrity back in school, sees golden girl Tara, now a respected publisher. Against the odds, Prema is able to interest Tara in her favorite author, who writes in a neglected language. Prema's love for and obsession with translating is well-written, and I also liked the parts that switch between third and first person – usually I dislike it when authors do that. Prema goes around with an air of defeat, so it never seemed like things could work out for her. However, the story didn't go where I expected it to. The story also raised a number of interesting issues regarding the translator-author relationship. The title story is the last one. At first, it tells the story of Ravi, an eccentric and withdrawn man who lives in a burned-out house. Even though his family's decline is related in a more "telling instead of showing" way, it is still involving with some sharp writing. I found the second half less compelling as there is an abrupt subject change, although the end ties everything up. Definitely worth a look.