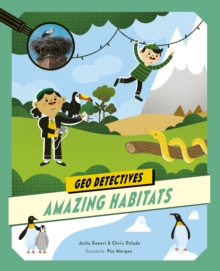 Amazing Habitats
Paperback / softback
Description
Explore, create and investigate with Ava and George - the Geo Detectives!
Use your detective skills to find out about amazing animal habitats. With the Geo Detectives series, join two young detectives, Ava and George, in a hands-on exploration of the natural world.
Learn about exciting geography topics, then investigate further with fun activities and projects to do at home and outside. What animals are able to live in the Arctic? What is a food chain? How are humans affecting animals' homes? Discover what incredible things happen in nature and use your own skills to find out why!
Get answers about:Microhabitats by making a bug hotelHow animals keep warm by experimenting with insulation, just like polar animalsRainforest animals, by making a rainforest in a jarAnimal adaptation and design your own desert creatureAnd much more!Encouraging young readers to investigate geography topics and to have fun while learning, this book will amaze and astound any reader with an interest in science and nature.
Information
Format: Paperback / softback
Pages: 32 pages
Publisher: QED Publishing
Publication Date: 18/05/2020
ISBN: 9780711246027
Also in the Geo Detectives series