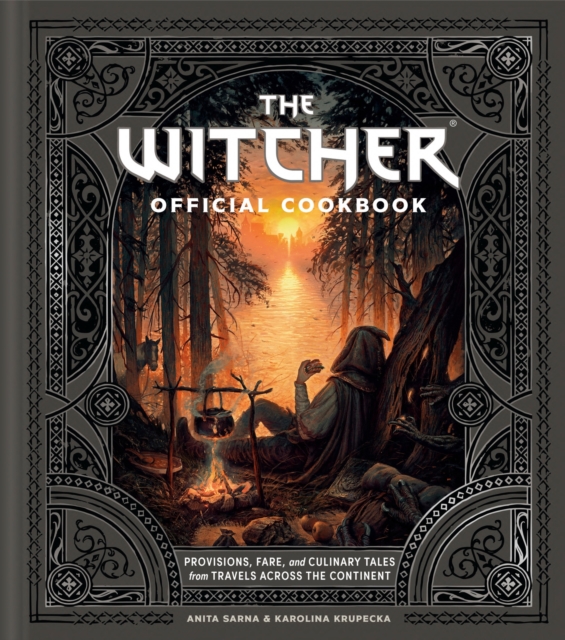 The Witcher Official Cookbook : 80 mouth-watering recipes from across The Continent
Hardback
Description
Take a culinary journey through the fantastical world of The Witcher with thoughtfully imagined, flavorful recipes inspired by The Witcher's expansive settings, characters, and lore.
In this beautifully photographed cookbook, Anita Sarna and Karolina Krupecka, the creators of fan-favorite food blogs Nerds' Kitchen and Witcher Kitchen, share their meticulously-researched, immersive recipes that give fans a taste of the distinct flavors a witcher might sample as he travels the countryside in search of monsters to slay and coin to earn. These dishes celebrate local and seasonal ingredients while adding unique twists that form a culinary map of the Continent and beyond.
Warm up over a bowl of fragrant stew or juicy baked fruit from the namesake trees of White Orchard; end a hard journey to Velen with a hearty, rustic meal at the local tavern; enjoy an aromatic snack as you stroll the markets of Oxenfurt; sample dishes from near and far in the diverse port city of Novigrad; dine on freshly-caught fish and mulled drinks on the islands of Skellige; feast on rich dishes in the sun-drenched climates of Toussaint and Beauclair; or forage on the perilous road to Kaer Morhen to learn the edible secrets of the witcher's keep.
Transport your kitchen to another world with the tempting scents and flavors in The Witcher Official Cookbook.
CD PROJEKT(R), The Witcher(R) are registered trademarks of CD PROJEKT Capital Group.
The Witcher game (c) CD PROJEKT S.A. Developed by CD PROJEKT S.A. All rights reserved. The Witcher game is set in the universe created by Andrzej Sapkowski in his series of books.
All other copyrights and trademarks are the property of their respective owners.
Information
Format:Hardback
Pages:256 pages
Publisher:Orion Publishing Co
Publication Date:23/11/2023
Category:
ISBN:9781399615631
Information
Format:Hardback
Pages:256 pages
Publisher:Orion Publishing Co
Publication Date:23/11/2023
Category:
ISBN:9781399615631