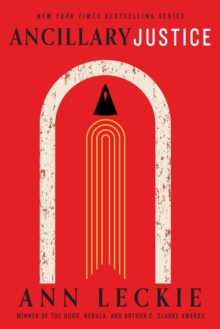 Ancillary Justice : THE HUGO, NEBULA AND ARTHUR C. CLARKE AWARD WINNER
Paperback
Description
The record-breaking debut novel that won every major science fiction award in 2014, Ancillary Justice is the story of a warship trapped in a human body and her search for revenge.
Ann Leckie is the first author to win the Arthur C. Clarke, the Nebula and the Hugo Award for Best Novel in the same year.They made me kill thousands, but I only have one target now.The Radch are conquerors to be feared - resist and they'll turn you into a 'corpse soldier' - one of an army of dead prisoners animated by a warship's AI mind.
Whole planets are conquered by their own people. The colossal warship called The Justice of Toren has been destroyed - but one ship-possessed soldier has escaped the devastation.
Used to controlling thousands of hands, thousands of mouths, The Justice now has only two hands, and one mouth with which to tell her tale. But one fragile, human body might just be enough to take revenge against those who destroyed her.'ENGAGING AND PROVOCATIVE' SFX Magazine'UNEXPECTED, COMPELLING AND VERY COOL'John Scalzi'HIGHLY RECOMMENDED'Independent on Sunday'MIND-BLOWING'io9.com'THRILLING, MOVING AND AWE-INSPIRING'Guardian'UTTER PERFECTION'The Book Smugglers'ASTOUNDINGLY ASSURED AND GRACEFUL'Strange Horizons'ESTABLISHES LECKIE AS AN HEIR TO BANKS'Elizabeth Bear
Information
Format: Paperback
Pages: 432 pages
Publisher: Little, Brown Book Group
Publication Date: 01/10/2013
Category: Science fiction
ISBN: 9780356502403
Free Home Delivery
on all orders
Pick up orders
from local bookshops
Reviews
Showing 1 - 5 of 5 reviews.
Review by wyvernfriend
16/06/2015
An interesting variation on many of the SF tropes. In this we have a spaceship with a human body and without their ship or the facilities they once had, trying to wreak revenge on those who reduced her to what she is now. When she comes across someone from her past, someone who has also had everything taken from her her plans start to gain traction.It's interesting, drew me in and kept me reading and I enjoyed the story, even if it was somewhat high in expectation, many people I know praised it a lot. I found the gender confusion interesting and I'm curious what's going to happen next.
Review by superant
16/06/2015
I enjoyed the book. It was a bit of a mystery story to me, which was a good thing. I did not know what was coming and had to keep reading to unwrap the tale. The central character is a mover and shaker in the story, plot and activities in the fictional world. I enjoyed the world creation. The characters were irritating and flawed, kinda like real people. The payoff at the end was big and important. As stated, I most enjoyed the slow reveal of the mystery. One way it is done, I am not so fond of, by telling two stories at once. We read about the characters in present time, while also reading the story of their previous life that led to the present. I am not much in favor of this style of writing, but it worked OK for me, in this case. I was much happier when the two stories caught up with each other and became one story.It was great that the importance of the plan of the main character becomes more and more clear as the book advances. Until near the end we so want the character to succeed, and are sure that it will fail. I am not giving anything away by saying the main character is an AI entity which inhabits a human body. Surprisingly this works, although the science seems questionable.The world creation holds interest. There is much revealed and so much more I wanted to know. It is interesting to think of a galaxy spanning empire built on the bodies of human troops, sentience warships and AI/human hybrids. What powers do the Presgar have to make the galaxy wide empire fear them. Is the leader of the Radchaai empire a human or an AI, or something new? How can the main character hold all the knowledge and information they have in a normal human brain.Even the normal business of who, what, where, how and why were revealed in slow mysterious ways. What gender are people? Are people in hetero or homo sexual relations? Why is the main character on the path they have chosen? Are allies trustworthy or will they betray our protagonist? And how in the universe can our protagonist accomplish anything against such overwhelming odds. I think I am a sucker for long odds. My admiration for the story lies mostly in the size of the challenge for the characters and how much is wrapped in mystery. I am hoping future books are forthcoming so I can see more mysteries unwrapped. My guess is that mystery fans will like this. Also people who are very comfortable with the social changes that have occurred in the West in the last 50 years. I would advise politically and socially conservative readers to avoid this story. The only element that might be acceptable is the strong religious practices in the book. But, no 20th century Earth religions are mentioned or practiced in the book. Everyone else read this book, if you like space mysteries and unusual characters.
Review by AlanPoulter
16/06/2015
A memorable first novel. A rescue of a burned out ex-soldier, now junkie, builds slowly towards a clash with the ruthless powers that run a star-spanning empire in the far future. It is at core the story of a soldier's revenge for being used, but the pretty much exclusive use of the female gender works to keep things wrong-footing the reader. The use of people as slaved parts of war machines adds a level of cold horror to what is at heart an old-fashioned space opera.
Review by infjsarah
16/06/2015
I picked up this book because of the buzz around it.And I did enjoy it. The gender issue is confusing at first but about a third in, it stops mattering and you just get pulled into the story. And what more could you want?It doesn't get the full 5 stars because I found the denouement a bit confusing. But an excellent read.
Review by RobertDay
16/06/2015
It's a long time since I've read an SF novel that was so complex that I didn't fully understand every aspect of the plot at first reading. But that's what I started reading SF for!Ann Leckie's central concept for this novel is the idea that AIs can not only run spaceships, but can also animate human bodies - "ancillaries" - which form the ship's crew and on-board forces. These "ancillaries" can multi-task, so we have the interesting feature in this novel of a single character with multiple points of view. (My confusion came from trying to work out the relationship and organisation of the ship and its ancillaries from the terminology, which isn't 100% clear. Rather like real life, then.)Others have commented on Leckie's use of non-gendered language, adopting the personal pronoun "she" for all characters seen from the point of view of the central, ancillary character. This did make me, like others, see all characters as female, and so it came as a surprise when another character refers to the same person as "he". Again, you just have to shelve this one for future reference, because if you stop to worry about it, you'll give up on the book (which would be a shame).The other thing that I enjoyed was the depiction of Radch society. This is a very far-future human society - so much so that Earth is not mentioned - and it comes over as as alien as any non-human imagined society. It has elements of oriental societies, though ti also has a religion with a pantheon of gods, much as the Romans did.In short, a novel that is the sort of book I started reading science fiction for - a true sense of Otherness.
Also in the Imperial Radch series | View all