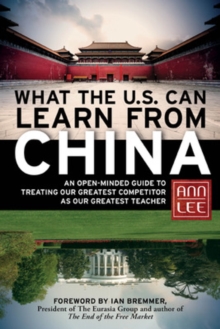 What the U.S. Can Learn from China: An Open-Minded Guide to Treating Our Greatest Competitor as Our Greatest Teacher : An Open-Minded Guide to Treating Our Greatest Competitor as Our Greatest Teacher
Hardback
Description
China succeeded Japan as the world's second largest economy in 2010 many predict it will grow to be larger than the United States by 2020.
Three decades ago, China was a rural economy with barely any exports.
The rise of China presents the United States with a "Sputnik Moment," in the words of President Obama.
Will we rise to the challenge as we did during the space race, or will we rationalize and scapegoat our way to explaining why we can't compete?Ann Lee provides an unvarnished assessment of China's political economy and governance structure, analyzing the sources of China's success and identifying lessons that can be applied by other governments regardless of ideology. As a Chinese-American who emigrated to the U.S. from Hong Kong at the age of seven, Lee is uniquely situated to help Americans understand how China sees its own society and how to adapt some Chinese practices to benefit the U.
S. For example, the Chinese economy is designed to make the kind of unproductive and unrestrained financial speculation that has devastated much of the West impossible.
Aspiring Chinese politicians have to pass tests to prove their competency to govern.
The Chinese homicide rate is a fifth of what it is in the U.S.
While not blind to China's shortcomings, Lee argues that rather than demonizing China, a more productive use of time and resources is to learn from this rising power in order to maximize the talent of millions of people.
Information
Format: Hardback
Pages: 288 pages
Publisher: Berrett-Koehler
Publication Date: 09/01/2012
Category: Geopolitics
ISBN: 9781609941246
Other Formats
PDF from £26.21
EPUB from £26.21
Free Home Delivery
on all orders
Pick up orders
from local bookshops