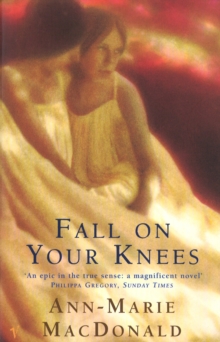 Fall On Your Knees
Paperback
Description
Following the curves of the twentieth century, FALL ON YOUR KNEES takes us from haunted Cape Breton island in Nova Scotia through the battlefields of World War I into the emerging jazz scene in New York City, and immerses us in the lives of four unforgettable sisters.
The children of a driven and ambitious father, the sisters -Kathleen, the oldest, a beautiful talent intent on a career as an opera diva; Frances, the drunken rogue and child prostitute; Lily, the pseudo-saint cripple; and Mercedes, the fervent Catholic and protector of the flock - are swept along by the tumult of events and of their own desires.
This is a story of family relationships, racial strife, miracles, attempted murder, birth and eath, and an extraordinary love affair.
Information
Format: Paperback
Pages: 576 pages
Publisher: Vintage Publishing
Publication Date: 01/07/1997
ISBN: 9780099740513
Free Home Delivery
on all orders
Pick up orders
from local bookshops
Reviews
Showing 1 - 5 of 5 reviews.
Review by pamplemousse
16/06/2015
Wonderful celebration of the human spirit (really!) This has to be the best book I've read in 1997. The story of a family progressing (badly) through the early decades of this century in Cape Breton, Nova Scotia, it covers just about every conceivable tragedy which might befall a family of that time and place, from disease to child abuse and suicide. And yet, told as it is with great good humour and without judgment by the author, this ends up being a thoroughly satisfying, enlightening and heartening book. You'll laugh and you'll cry, and you won't be able to put it down. What more could you want?
Review by helensdatter
16/06/2015
I have just finished this book and would put it amongst my top 10 ever read! I thought the plotting was so clever, I want to say lurid without being sensational. So sad in places = the poor mother. The wicked father but never black and white bad. The wonderful girls. I have started re-reading bits again to pick up hints I missed the first time. Unforgettable.
Review by whirled
16/06/2015
Fall On Your Knees is a big, messy car wreck of a novel, and it has a car wreck's macabre pull. The book touches on many nasty subjects, including incest and suicide, yet it held my interest throughout its significant length. The key to its power lies largely in the girls at the centre of the narrative, the four unlucky daughters of James Piper. The characters were each distinctive and well-drawn, carrying between them many moments of heartbreak and dark humour. MacDonald did go over the top with the 'quirkiness' at times, making this a book I would not recommend to others but which I did, despite everything, enjoy.
Review by lberriman
16/06/2015
I found this book very disturbing.
Review by WorldInColour
16/06/2015
It is rather often that a book is described as an 'epic', a 'glorious tale of generations' that spans 'a range of intricate feelings' and so on. I was, therefore, mildly suspicious when I read Philippa Gregory's quote on the front of MacDonald's debut novel 'Fall on Your Knees'; 'an epic in the true sense: a magnificent novel'. Following Homer and Vergil's early Latin works, hardly any novel has ever managed to pull off the 'epic' genre in the same way. And although 'Fall on Your Knees' is hardly made of the same cloth, it is an excellent and very enticing debut.<br/><br/>But what's it all about? A lot, really. I won't go into details about the contents of the book. The basic story is about the Piper family, their internal family relations and emotional hardships. The central figure, Kathleen Piper, is forged into a singer by her father James. <br/><br/>To me, however, it was her maudit sister Frances who stole the show. Her, and MacDonald's tendency to surprise the reader with some very dramatic, intense and sudden plot twists make sure that this book is an experience worth remembering and a story worth savouring.