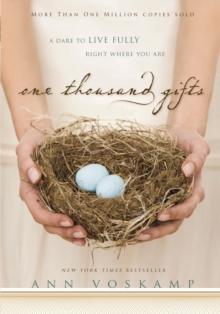 One Thousand Gifts : A Dare to Live Fully Right Where You Are
Hardback
Description
Just like you, Ann Voskamp hungers to live her one life well.
Forget the bucket lists that have us escaping our everyday lives for exotic experiences. "How," Ann wondered, "do we find joy in the midst of deadlines, debt, drama, and daily duties?
What does the Christ-life really look like when your days are gritty, long-and sometimes even dark?
How is God even here?" In One Thousand Gifts, Ann invites you to embrace everyday blessings and embark on the transformative spiritual discipline of chronicling God's gifts.
It's only in this expressing of gratitude for the life we already have, we discover the life we've always wanted ... a life we can take, give thanks for, and break for others.
We come to feel and know the impossible right down in our bones: we are wildly loved - by God.
Let Ann's beautiful, heart-aching stories of the everyday give you a way of seeing that opens your eyes to ordinary amazing grace, a way of being present to God that makes you deeply happy, and a way of living that is finally fully alive.
Come live the best dare of all!
Information
Format: Hardback
Pages: 240 pages
Publisher:
Publication Date: 07/01/2011
Category: Christian life & practice
ISBN: 9780310321910
Other Formats
EPUB from £6.99
Paperback from £5.59
Leather / fine binding from £10.25
Mixed media product from £20.05
Free Home Delivery
on all orders
Pick up orders
from local bookshops
Reviews
Showing 1 - 5 of 14 reviews.
Previous | Next
Review by MandaT
16/06/2015
just finished reading Ann Voskamp's One Thousand Gifts. This book touched my heart. Ann does a beautiful job of writing her feelings and thoughts so descriptively. She writes the questions that many of us think deep within our hearts after we face a devastating tragedy...questions that we dare not say out loud for fear of what others might think of us. "Can there be a good God? A God who graces with good gifts when a crib lies empty through long nights, and bugs burrow through coffins? Where is God, really? How can He be good when babies die, and marriages implode, and dreams blow away, dust in the wind? ...Where hides this joy of the Lord, this God who fills the earth with good things, and how do I fully live when life is full of hurt?" (pg. 12)It isn't until a friend dares Ann to list one thousand gifts that things begin to really change in her life. She begins to list not the things she wants, but the gifts she has already been given. It begins to help her see the grace of God in her life in the little everyday things from jam on toast to nature outside and more. She learns what it means to be thankful and it changes her life. "When the laundry is for the dozen arms of children or the dozen legs, it's true, I think I'm due some appreciation. So comes a storm of trouble and lightning strikes joy. But when Christ is at the center, when dishes, laundry, work is my song of thanks to Him, joy rains." (pg. 194) I love this. It's exactly what I face every day. And like Ann says in the book, it's a daily choice of gratitude and with that choice, my whole outlook on life changes b/c life is not about me but about Christ. This is one of those books that you must read. So go to your local bookstore or check it out from the library and enjoy a book that will change your perspective on life.
Review by MariaSavva
16/06/2015
This book is packaged well, it looks good. It has an interesting idea behind it. Ann Voskamp was disheartened with her life until a friend challenged her to write a list of one thousand things that she is grateful for. This is a book with many thought provoking passages and many important messages. The trouble is finding these important messages within the book.It starts off well. The author begins the book by writing about her family life and giving background to the reasons behind her negative feelings towards God. She reveals a heartbreaking tragedy that led to a life full of anxiety and fear. I found that in the parts of the book where the author was revealing subjects close to her heart and events from her past, she was able to write those without pretension and without resorting to use of flowery language. Those parts of the book are good and really held my interest, and sometimes moved me. However, most of the book is full of poetic language to the extent that it reads more like poetry than prose. There is also an inordinate amount of repetition of the same thing over and over again. It took me a long time to read this book because sometimes I could not bear to read another word. If I hadn't been reading it to review it for Bookpleasures, I would have stopped reading about half way through.All that said, I think it is a great shame that the book wasn't thoroughly edited. Half of the words should definitely have been cut out. The flowery poetry should have been binned, in my opinion. It was as if the author was either trying too hard to find imagery to describe things, or was hiding behind this purple prose. She obviously has a great talent, because the bits of the book that I liked, I really liked.She brought up many important issues in this book, but the way it was written makes it almost unreadable, unfortunately. It is a pity because, if this book was re-edited and restructured, it would be a perfect way to get across to people the importance of trusting and being grateful for the many gifts we take for granted in life on a daily basis.Reviewed by Maria Savva as a reviewer for Bookpleasures.
Review by chickadee2
16/06/2015
I have been changed by the truths, poetically told in this book.I challenge you to let your life be invaded by a new vision that will bring you closer to God.
Review by lyndanorth
16/06/2015
"A beautifully practical guide to living a life of joy, One Thousand Gifts invites you to wake up to God's everyday blessings." "...grace-bathed reflections on her farming, parenting, and writing life, you will embark on a transformative spiritual discipline of chronicling gifts. Along the way, you will discover a way of seeing that opens your eyes to gratitude, a way of living so you are not afraid to die, and a way of becoming present to God's presence that brings deep and lasting happiness."I love the way this lady writes. If you are an outdoors lover, it will appeal to you as well.
Review by letseatgrandpa
16/06/2015
It's rare these days that I'll pull out a perfect ten for a book. Even more rare — that I'll start a book with such misguided expectations and end up loving it. At first, I thought Voskamp's writing was far to flowery, mystical, and poetic for me, but it didn't take long for me to be enveloped by her language and lost in her words. Voskamp had lived a life of anxiety and sadness, and yet one day decides to start a gratitude list, writing out the small things that she could thank God for. This small act begins to change every aspect of her life, from the way she views her children and husband, the way she reacts to difficult times, and the way she sees God as an abundant provider instead of constantly taking things away. I finished this up on a flight home recently, and I got out my journal and sat there and wept in my seat as I wrote down a list of the things I was thankful for just that evening. I think other passengers must have thought I was crazy.I want to gift this book to so many of my friends, especially those struggling with some really difficult life issues, such as depression. I know that the poetic language might turn a lot of readers off, but as someone who usually likes her writing much more solid and fact-driving, I can honestly say that I was able to immerse myself in her language and get to the true point of what she was trying to convey. I am so thankful for this book — I really hope you'll give it a chance and pick it up.