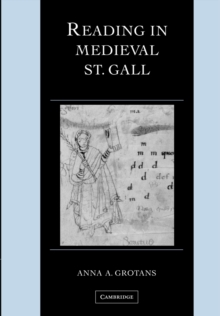 Reading in Medieval St. Gall
Paperback / softback
Description
Learning to read in medieval Germany meant learning to read and understand Latin as well as the pupils' own language.
The teaching methods used in the medieval Abbey of St Gall survive in the translations and commentaries of the monk, scholar and teacher Notker Labeo (c.950-1022).
Notker's pedagogic method, although deeply rooted in classical and monastic traditions, demonstrates revolutionary innovations that include providing translations in the pupils' native German, supplying structural commentary in the form of simplified word order and punctuation, and furnishing special markers that helped readers to perform texts out loud.
Anna Grotans examines this unique interplay between orality and literacy in Latin and Old High German, and illustrates her study with many examples from Notker's manuscripts.
This study has much to contribute to our knowledge of medieval reading, and of the relationship between Latin and the vernacular in a variety of formal and informal contexts.
Information
Format: Paperback / softback
Pages: 380 pages
Publisher: Cambridge University Press
Publication Date: 19/07/2012
Category: Palaeography (history of writing)
ISBN: 9781107405295
Also in the Cambridge Studies in Palaeography and Codicology series | View all