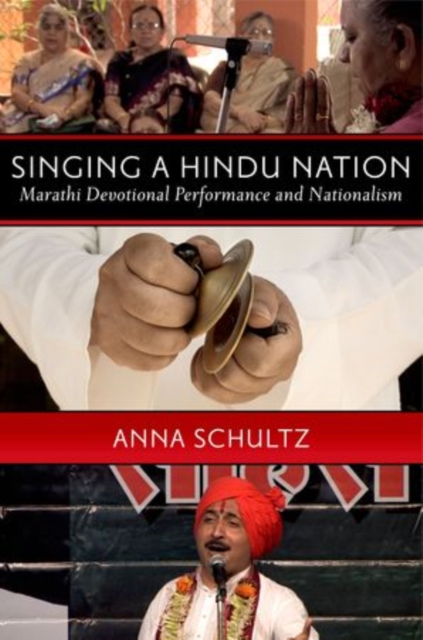 Singing a Hindu Nation : Marathi Devotional Performance and Nationalism
Paperback / softback
Description
Singing a Hindu Nation is a study of rāgsrīya kīrtan, a western Indian performance medium that combines song, Hindu philosophical discourse, and nationalist storytelling.
Beginning during the anti-colonial movement of the late nineteenth-century, performers of rāgsrīya kīrtan led masses of Marathi-speaking people in temples and streets, and they have continued to preach and sing nationalism as devotion in the post-colonial era, and into the twenty-first century.
In this book, author Anna Schultz demonstrates how, through this particular form of musical performance, the political becomes devotional, and explores why it motivates people to action and violence.
Through both historical and ethnographic studies, Schultz shows that rāgsrīya kīrtan has been especially successful in combining these two realms because kīrtankārs perform as representatives of the divine sage Narad, thereby infusing their nationalist messages with ritual weight.
By speaking and singing in regional idioms with rich associations for Maharashtrian congregations, they use music to combine political and religious signs in ways that seem natural and desirable, promoting embodied experiences of nationalist devotion.
As the first monograph on music and Hindu-nationalism, Singing a Hindu Nation presents a rare glimpse into the lives and performance worlds of nationalists on the margins of all-India political parties and cultural organizations, and is an essential resource for ethnomusicologists, as well as scholars of South Asian studies, religion, and political theory.
Information
Format:Paperback / softback
Pages:256 pages, 37 illustrations
Publisher:Oxford University Press Inc
Publication Date:10/01/2013
Category:
ISBN:9780199730834
Information
Format:Paperback / softback
Pages:256 pages, 37 illustrations
Publisher:Oxford University Press Inc
Publication Date:10/01/2013
Category:
ISBN:9780199730834