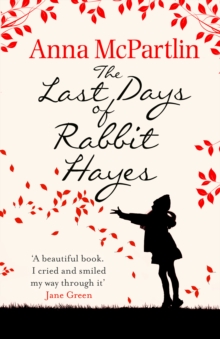 The Last Days of Rabbit Hayes
Paperback
Description
Here is a truth that can't be escaped: for Mia `Rabbit' Hayes, life is coming to an end . . . Rabbit Hayes loves her life, ordinary as it is, and the extraordinary people in it. She loves her spirited daughter, Juliet; her colourful, unruly family; the only man in her big heart, Johnny Faye. But it turns out the world has other plans for Rabbit, and she's OK with that. Because she has plans for the world too, and only a handful of days left to make them happen. Here is a truth that won't be forgotten: this is a story about laughing through life's surprises and finding the joy in every moment. Praise for Anna McPartlin:'What a beautiful book. I cried and smiled my way through' Jane Green'I loved the clear, elegant prose, the feisty characters and the sparkling dialogue' Susan Elliot Wright'A delightful roller-coaster ride of emotion' Sunday Independent 'Buy a packet (or box) of tissues and settle down with this wonderful story' Heat MagazineThe Last Days of Rabbit Hayes is a Richard and Judy recommended read, and a Simon Mayo Book Club pick.
Information
Format: Paperback
Pages: 448 pages, None
Publisher: Transworld Publishers Ltd
Publication Date: 01/01/2015
ISBN: 9780552773744
Free Home Delivery
on all orders
Pick up orders
from local bookshops
Reviews
Showing 1 - 3 of 3 reviews.
Review by shelleyraec
16/06/2015
Simultaneously heartbreaking and uplifting, wildly funny and emotionally devastating, The Last Days of Rabbit Hayes is a superb novel from Anna McPartlin.Forty year old, single mother Mia 'Rabbit' Hayes has bravely fought the ravages of cancer for four years, but now she and her family are forced to face the truth…she has just days left to live. As Rabbit drifts in and out of consciousness in her hospice bed, recalling the most important moments of her youth, her family and friends struggle to accept their impending loss.A story of heartbreak, joy, love and loss, a novel with heart and soul… I was smiling broadly through it all, despite the tears running down my face.
Review by DubaiReader
27/08/2015
Didn't quite hit the spot.Am I just cold-hearted? I expected to be sobbing throughout this book, like I was with Paula by Isobel Allende, but this one just didn't affect me in the same way (possibly because this was fiction, while Paula was a memoir).I enjoyed the characters and the back-story of Rabbit Hayes, her brother's band, Kitchen Sink, and Jonny Faye, the lead singer, but the gradual decline of Rabbit from the time that she was admitted to the hospice, was interesting rather than distressing.There were quite a few family members in Rabbit's life and they all took a part in helping and encouraging her and each other, both in the hospital and out. Various people became stressed and there were a few blow outs, as you'd expect, but I think the style of writing was just a bit too formulaic and matter-of-fact to totally involve me. I can't say I found it as amusing as other reviewers have done either.I would also question the relevance of the death of another character in the story, which distracted from the main plot, in my opinion. In the end it was the situation of rabbit's twelve year old daughter, Juliette, that moved me most.Personally, I think I would have enjoyed this more as an audiobook. The Irish accent didn't always read well and to have had the dialogue read correctly would have greatly improved the flow. One or two phrases meant nothing to me at all; "Dee O'Reilly let me drop the hand the other night" and "She didn't lick it off the stones, Jack observed", I assume they are Irish colloquialisms.Having said all this, I will add that I was in the minority in my book group - everyone else thought it was an excellent read, so take a look at a few other reviews before you make a decision based on mine.
Review by Beamis12
27/08/2015
The subject of this novel is without doubt a sad one. But, it is much, much more. Not many novels can have you crying on one page and laughing on the next. Also the characters in this novel are wonderful, funny, flawed, trying to figure out who will take Rabbit's twelve yr, old daughter Juliet. When Rabbit gives in to her strong pain killers and falls asleep, she dreams of her past. Her brother David, the boy she has loved since she was twelve, Johnny and the band. So it is also a beautiful love story and believe me it is not a mushy love story.So yes it is sad but amazing nonetheless. It is all the things a life is, lived well, surrounded by so much love. I could have kept reading, loved her dreams and already miss all the characters. Read it and see.